Mamma Mia! a 4 cylinder Maserati! It is with these words that I begin the essay of this new Maserati Ghibli The arrival of this 330 hp 4-cylinder hybrid engine is so divisive. Between those for whom Maserati is above all an inimitable sound and those who accept this engine with open arms because of the increasingly punitive malus.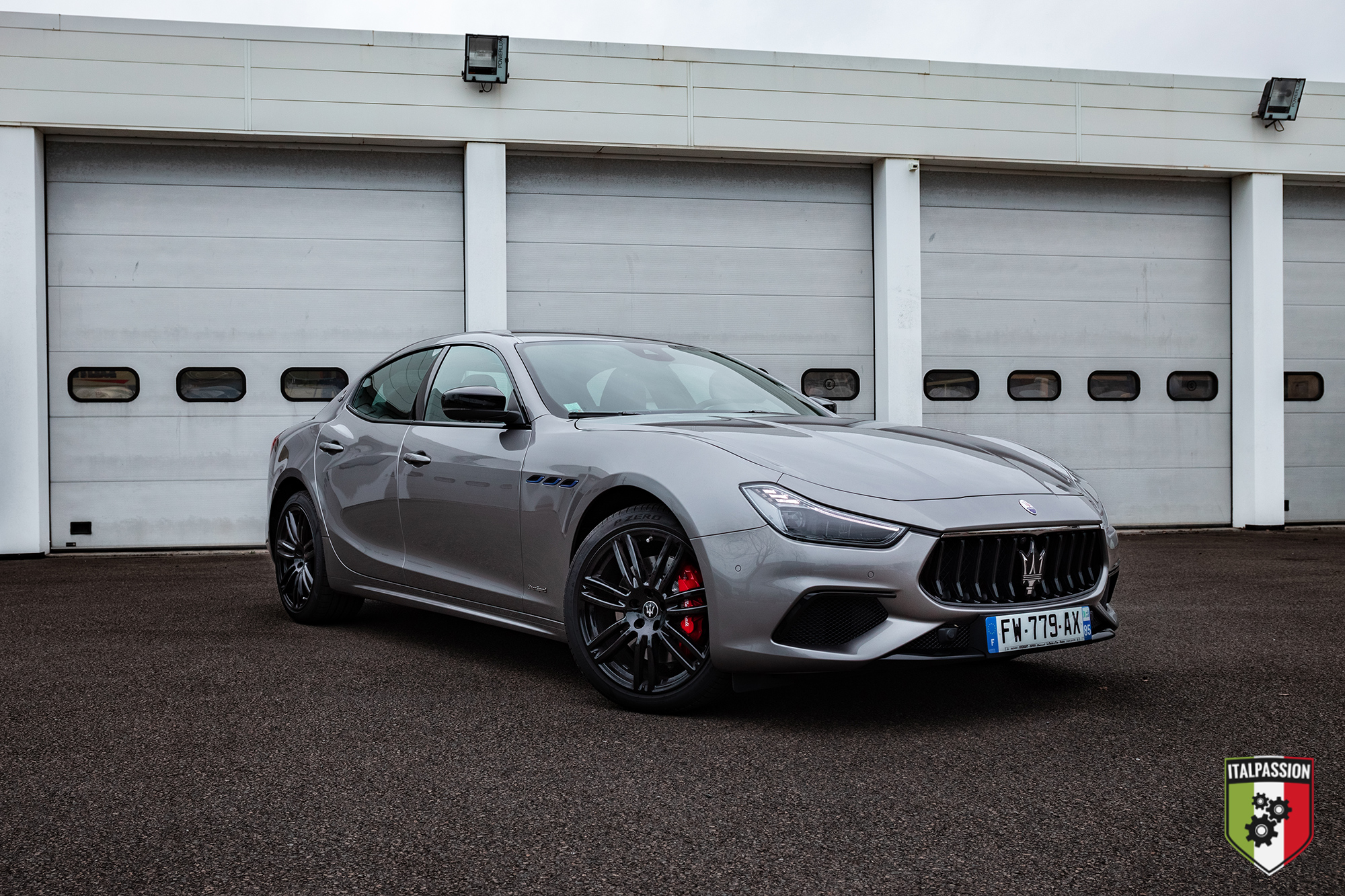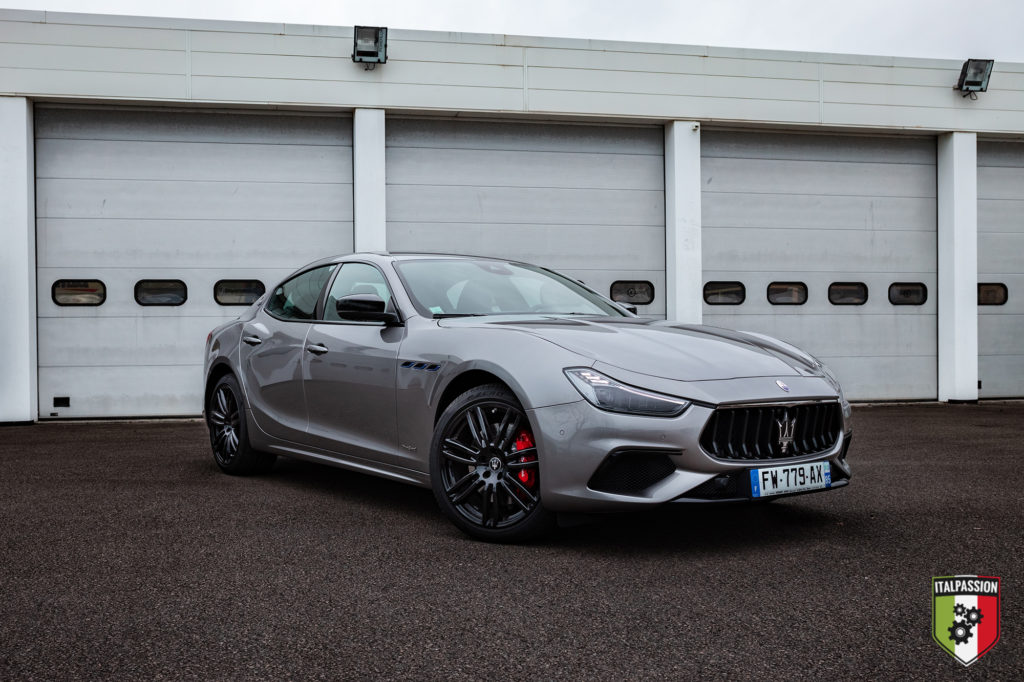 To make my own opinion, I was able to try during one day the Maserati Ghibli hybrid car, in a GranSport finish, on the road, in Les Sables-d'Olonne.
Maserati Ghibli hybrid GranSport : presentation !
Let's start with the presentation of this Maserati Ghibli hybrid.
The line of this sedan of almost 5 meters ages well. Let's remember that this model of the Italian manufacturer's range was presented in 2013 (just like its sister, the Quattroporte) and that, year after year, it has been improved by Maserati both on the outside and inside, and in equipment. Proof of this is the exterior look, which has continued to receiving thumbs up and friendly signs as he passesIt's a great way to get a good look, even from the police (it won't prevent you from getting fined, don't dream). In addition to being beautiful, it benefits from the very good sympathy capital of the brand.
The most visible novelty on the outside are the new tail lights which, when lit, make a a nod to the iconic Maserati 3200 GT of the designer Giugiaro. Makes you wonder why they didn't launch it like this when the Ghibli debuted! On this model, the GranSport finish is very racy: sporty front bumper, 20″ wheels, sport seats, sport steering wheel, red brake calipers... If you prefer a wiser look, get the GranLusso.
On board, very high quality materials
The interior is beautiful, a mix of luxury and sport. The door handles are elegantly integrated, the Zegna woven leather upholstery is of the most beautiful effect, the dashboard highlights the new infotainment system, we are in a very high-end sedan. You can see it in the eye and feel it in the touch of the materials.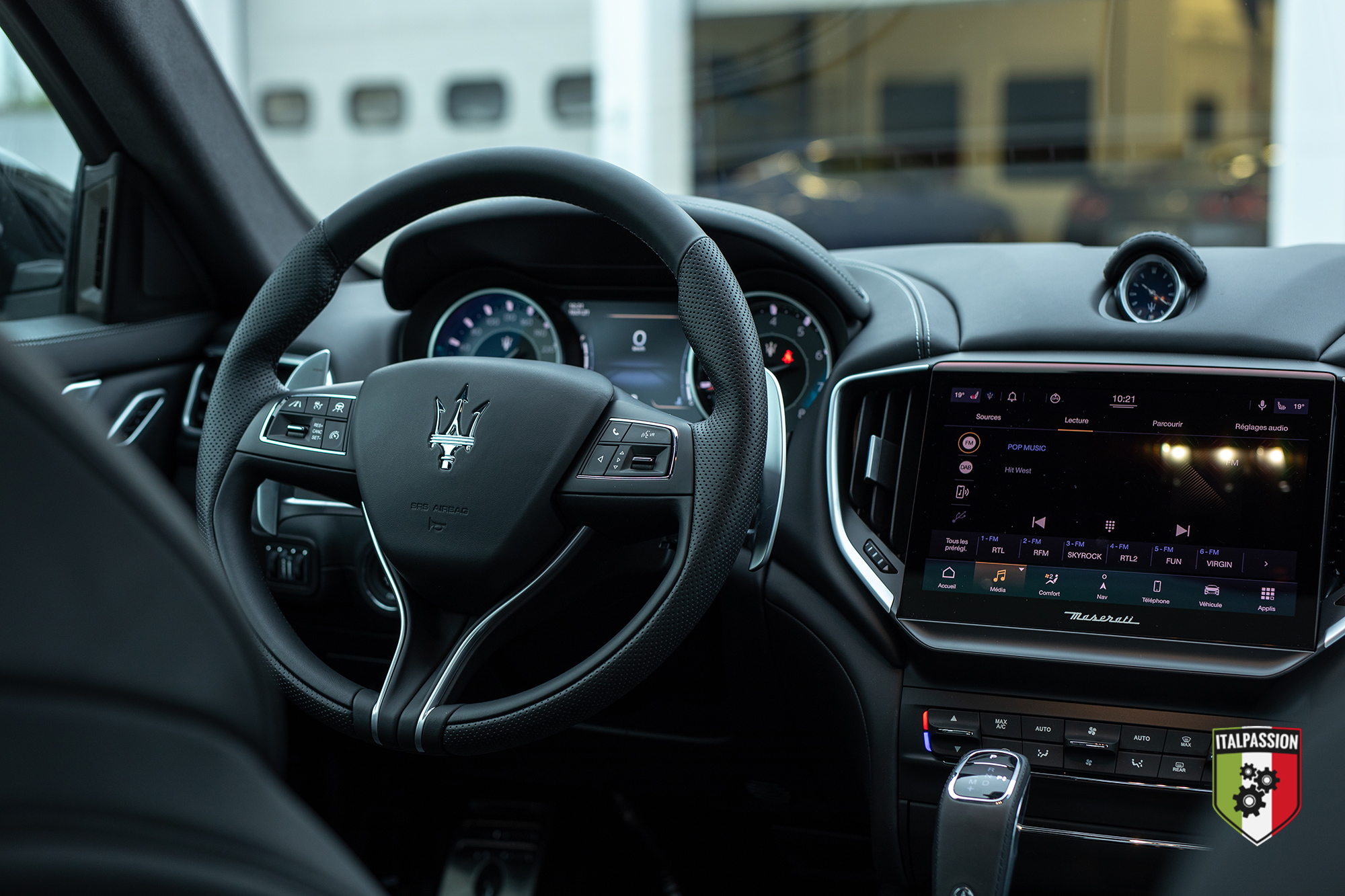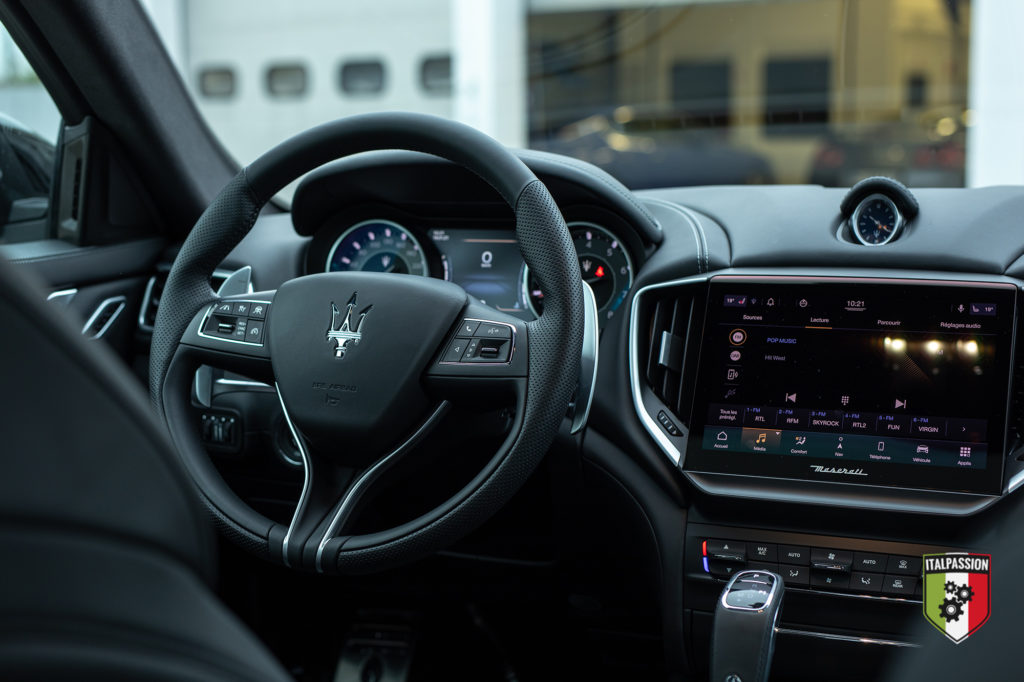 Focus on the new multimedia system. It will never stop evolving from year to year and here is the brand new Maserati Connect and its 10.1″ touch screen. Finally a complete interface, high definition screen, fluid and complete interface, TomTom mapping, Amazon Alexa, Apple CarPlay, etc. Finally on par with the competition!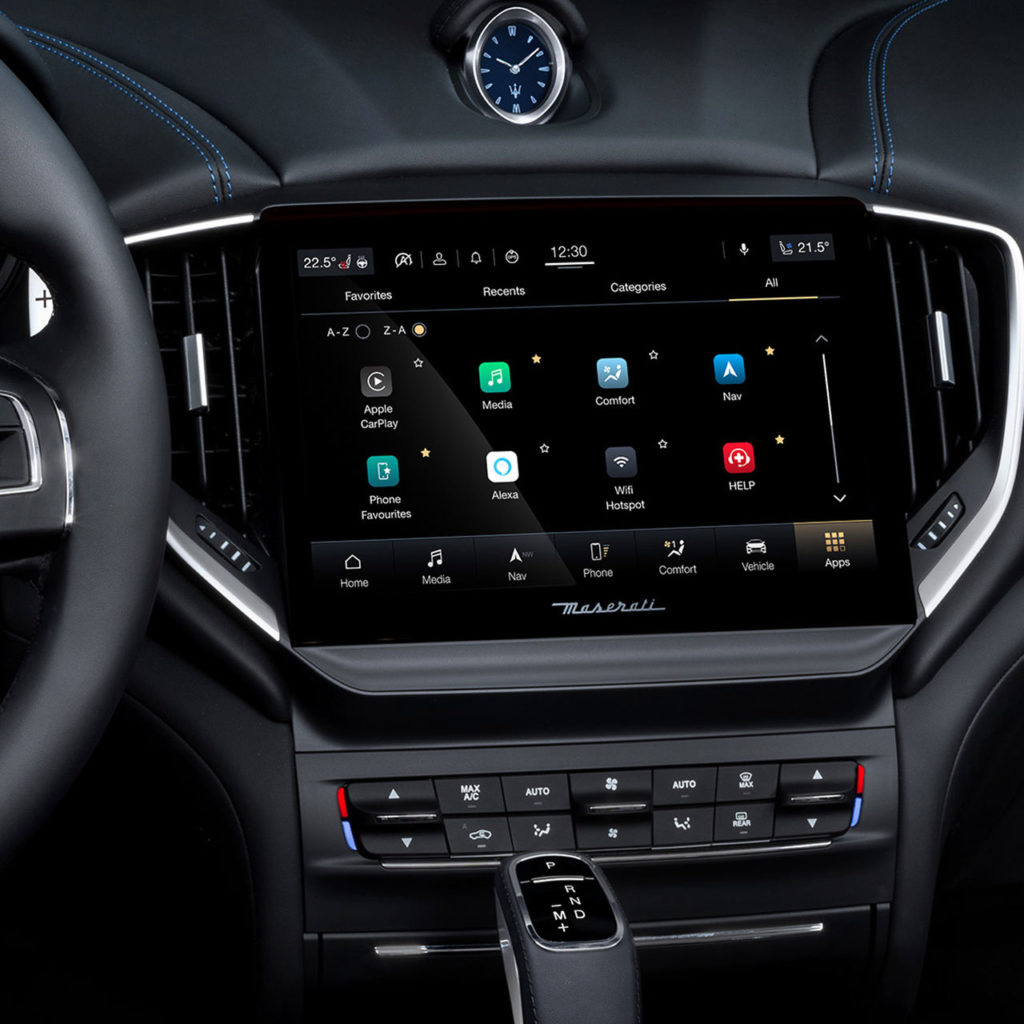 Finally, on the practical side, I noted that the 500L trunk is of a good capacity for its category and that the rear seats are foldable. That's always good to know.
Back to 4 cylinders
Yes in this Maserati is a 4 cylinder...
This may surprise you, 4-cylinder Maseratis have already been made in the sporting history of the brand. For example, there is the Maserati 4CL with its 1.5L 200 hp engine, the Maserati 4CLT and its 1.5L of 260 hp driven by Juan Manuel Fangio, or the Maserati Tipo 60 and its 4 cylinder 2.0L of 200 hp which won the Grand Prix of Rouen in 1959, and finally the Maserati Tipo 61its 4 cylinder 2.9L of 260 hp and its pilot Stirling Moss who won a race in 1960 at the Nurburgring in front of Ferrari, Porsche, and Aston Martin....
If this can convince the purists, 4-cylinders have already existed in competition, whether at Ferrari, Alfa Romeo, Maserati and other brands. All the winning drivers on these racing machines seemed to be less resistant.
The 4 cylinder has, I grant you, a less exciting sound than a V6, V8, V12, but it is not in opposition with the sporting history of the Trident brand.
Technically, the Ghibli's mild hybrid engine is a combination of a 2.0L 4-cylinder engine and a 48V electric motor. Together they offer a 330 hp and 450 Nm of torque. This system recharges itself when braking or decelerating, the battery energy is used during acceleration to provide more power. Note that all this power is sent to the rear wheels, it is a propulsion.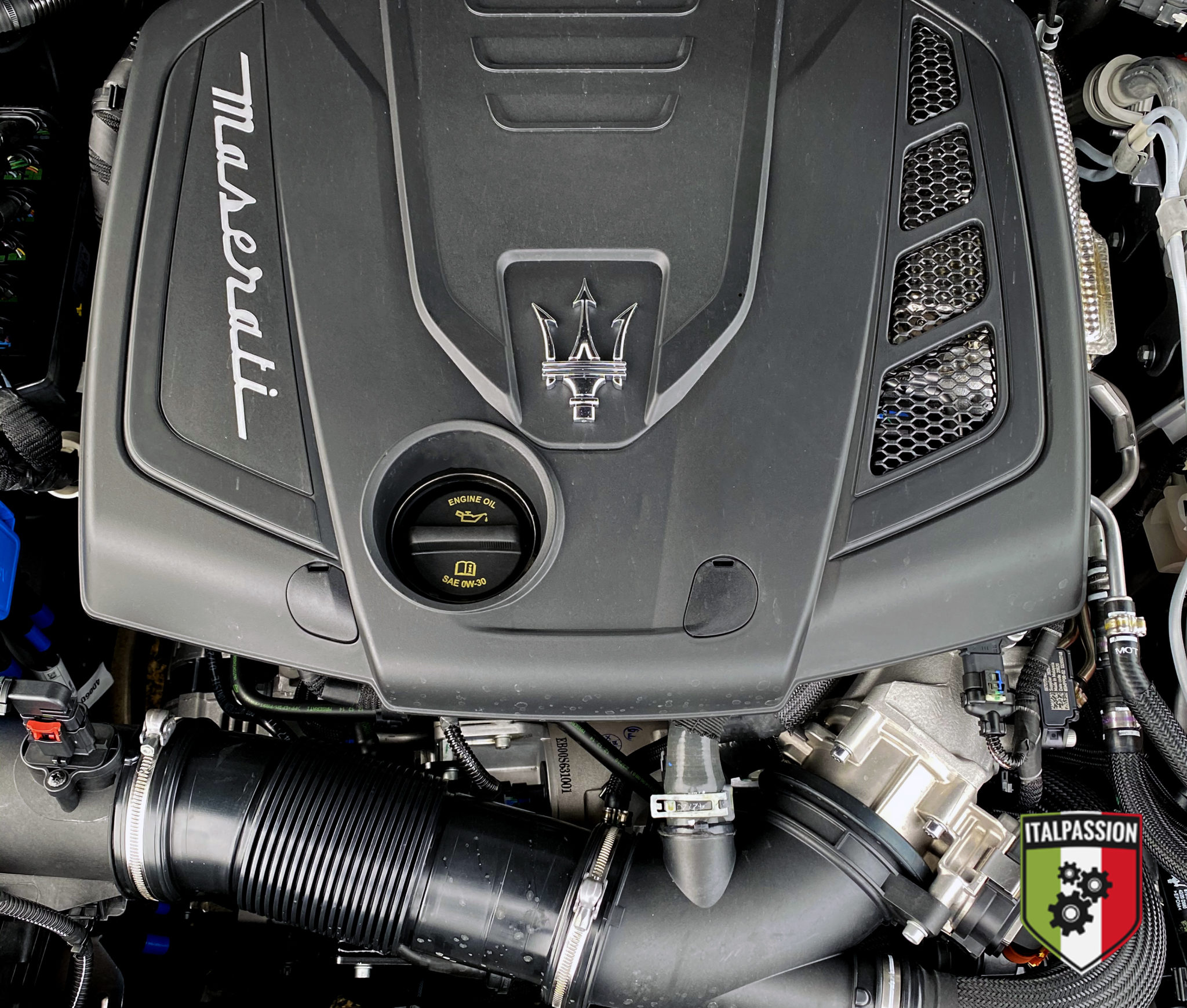 Versatile road handling
This 2.0L 4-cylinder 330 hp hybrid engine replaces the 275 hp V6 diesel. Lighter with this engine, and despite the weight of the electric motor and batteries, the Ghibli Hybrid is more powerful than the V6 diesel version and almost as powerful as the 3.0L V6 gasoline version with 350 hp.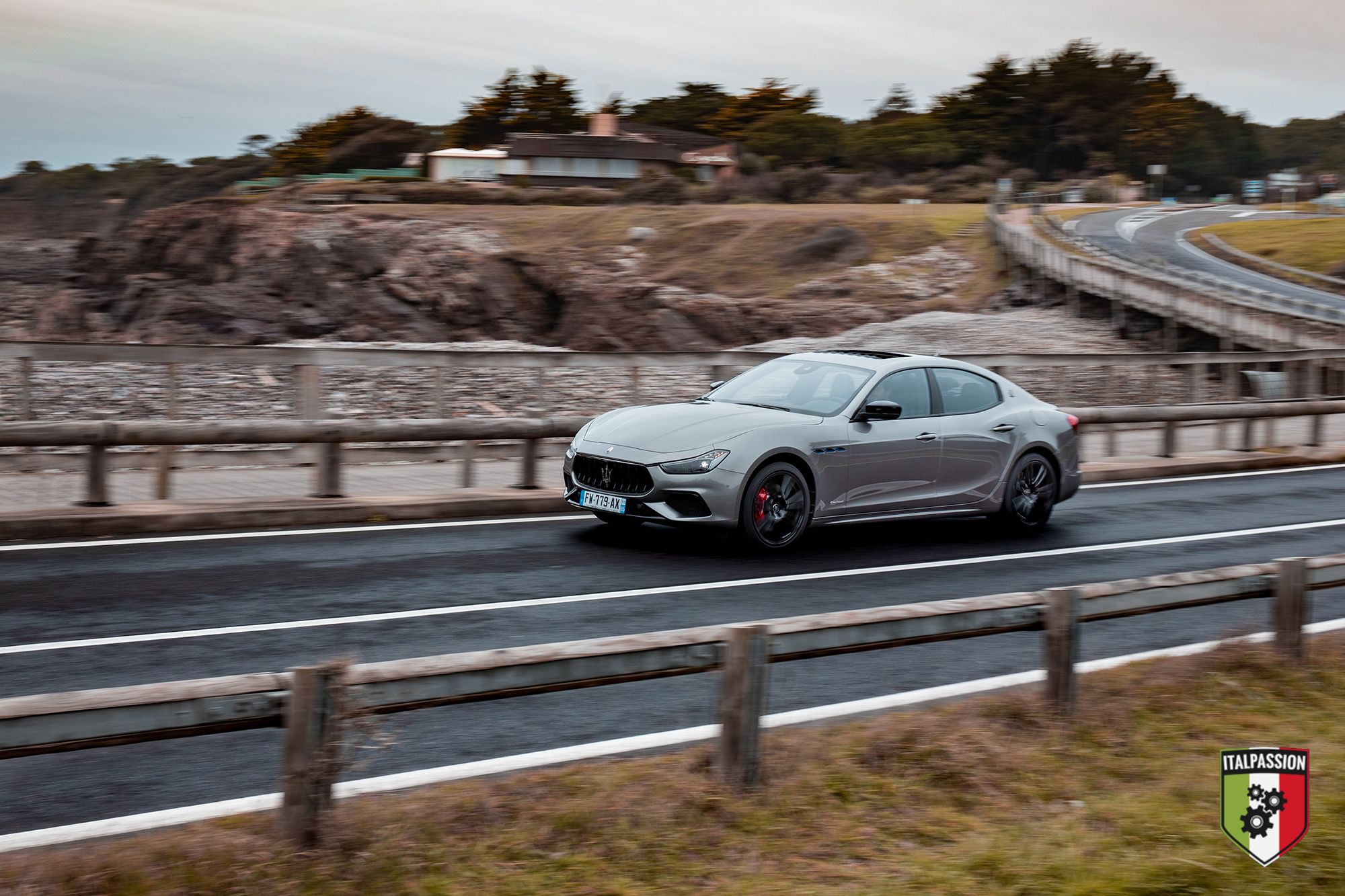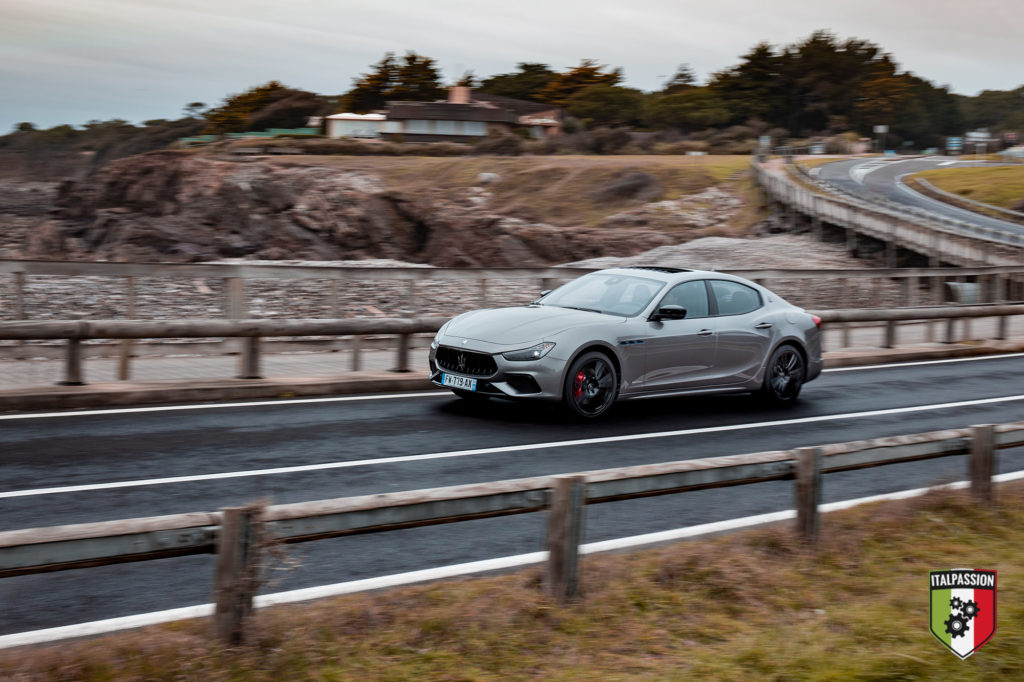 On a daily basis, this results in a comfortable and quiet sedan in the city and on the main roads. In normal driving, I am between 8 and 9 L/100 km of consumption. Once the sport" button pressedThe exhaust system changes its sound to a noise that is both husky and muffled. That is to say, it's loud enough to make a more powerful noise when accelerating and shifting gears, but much quieter than an Akrapovic found in Abarth for example. In sport mode, even if we feel that this is not a pure sports car with its 1.8 tons of weight, the Skyhook suspensions, the Brembo brakes and the 8 speed ZF gearbox offer a very good handling. dynamic and reassuring driving.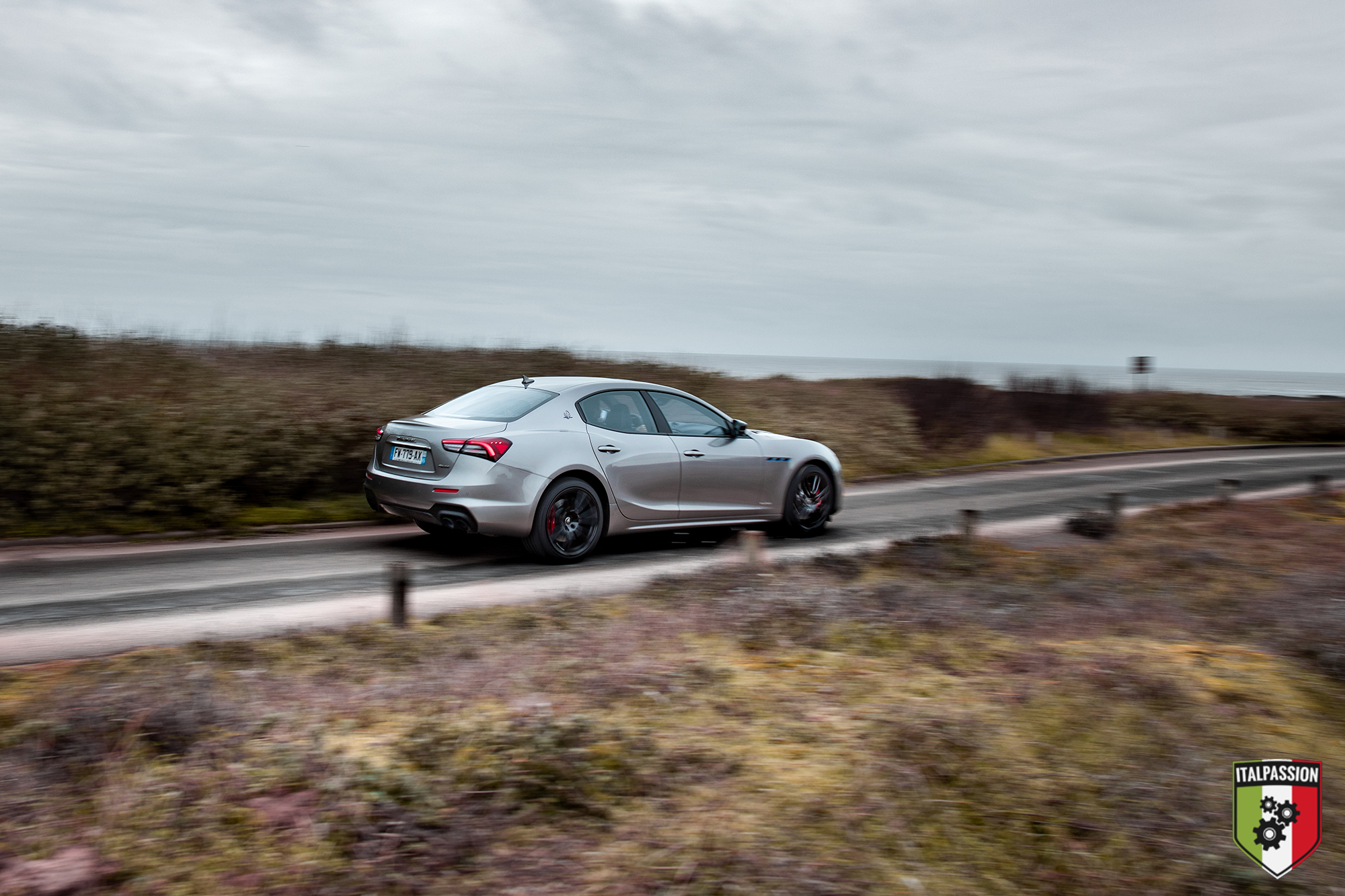 Ghibli Hybrid pricing versus the competition
Of all the competition, Maserati is the only brand to have opted for the light hybrid technology MHEV compared to the PHEV plug-in hybrid for the others. The MHEV offers weight and space savings compared to the PHEV, but it is not possible to drive several kilometers in full electric mode. CO2 emissions are also affected.
| | Maserati Ghibli Hybrid | Maserati Ghibli Hybrid GranSport | Mercedes E-Class 300 e | Audi A6 TFSI e S-Line | BMW 5 Series 530e xDrive M Sport |
| --- | --- | --- | --- | --- | --- |
| Price includes VAT | 74 700 € | 86 500 € | 63 450 € | 70 600 € | 73 650 € |
| Engine | MHEV 4 cylinders + electric motor | MHEV 4 cylinders + electric motor | PHEV 4 cylinders + electric motor | PHEV 4 cylinders + electric motor | PHEV 4 cylinders + electric motor |
| Power (hp) | 330 hp | 330 hp | 333 hp | 299 hp | 292 hp |
| Torque (Nm) | 450 Nm | 450 Nm | / | / | 300 Nm |
| Weight | 1880 kg | 1880 kg | 1990 kg | / | 1970 kg |
| 0 to 100 km/h | 5.7 sec | 5.7 sec | 5.8 sec | / | 5.9 sec |
| Co2 | 187g | 199g | 35g | 37g | 39g |
Conclusion: a welcome 4-cylinder Ghibli hybrid
This Maserati Ghibli hybrid 4-cylinderby replacing the V6 diesel engine (which also made some "noise" when it came out), allowsexpand the range.
Ranging from the 330 hp hybrid 4-cylinder, through the 350 and 430 hp V6, to the 580 hp V8 for the Trofeo version, the Ghibli can satisfy all buyersfor all purposes. If you can, get a V6 or V8, it's a different sound experience! But thanks to this 4-cylinder, it is repositioned in front of competitors who also offer 4-cylinder hybrid engines. And as you now know, 4-cylinder is not a blasphemy.
Features
Power 330 hp
Torque 450 Nm
0 to 100 km/h : 5,7 sec
Vmax : 255 km/h
Height : 1,46 m
Length 4,97 m
Width (without mirror) 1.94 m
Trunk: 500 L
Consumption WLTP : 8,8L /100 km
If you don't want to follow the SUV trend with the Levante, the Maserati Ghibli Hybrid is a perfect luxury sedan for everyday life. With the GranSport trim, the look is sporty, bolder than other sedans, the interior breathes the high-end materialsit is very well equipped whether in driving aids, multimedia, comfort...
And it is a Maserati, the gentleman driver's car. Visit the Maserati dealer the nearest one to you to find out.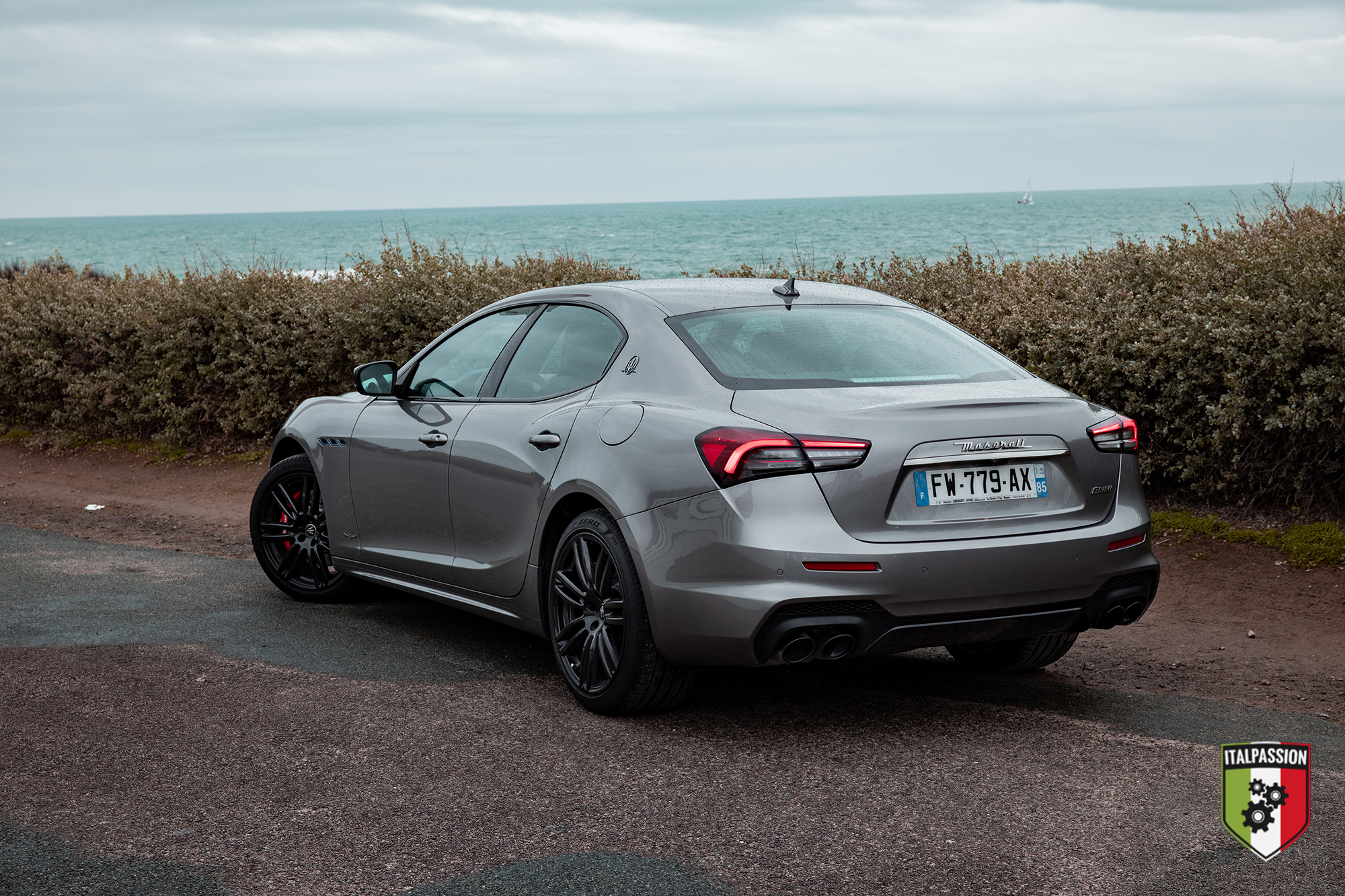 Subject that is always annoying: Co2 emissions ! According to the WLTP standard, the Maserati Ghibli hybrid emits between 183 and 213 g of Co2/km. The Maserati Ghibli GranSport hybrid in this test emits 199 g of Co2/km, which means an ecological penalty of 14,723 € in 2021. I'm told that Maserati is able to offer a discount to make up for this.
Thanks to the Maserati dealer Nantes / La-Roche-sur-Yon Trident Group for its confidence and the loan of the Maserati Ghibli!
You have a Maserati Ghibli or you are planning to buy one? Use our comparison ofMaserati insurance.