The last time we had a product plan Maserati that was almost 1 year ago, while at the same time we were seeing the continuation of the fall in sales for the year 2019.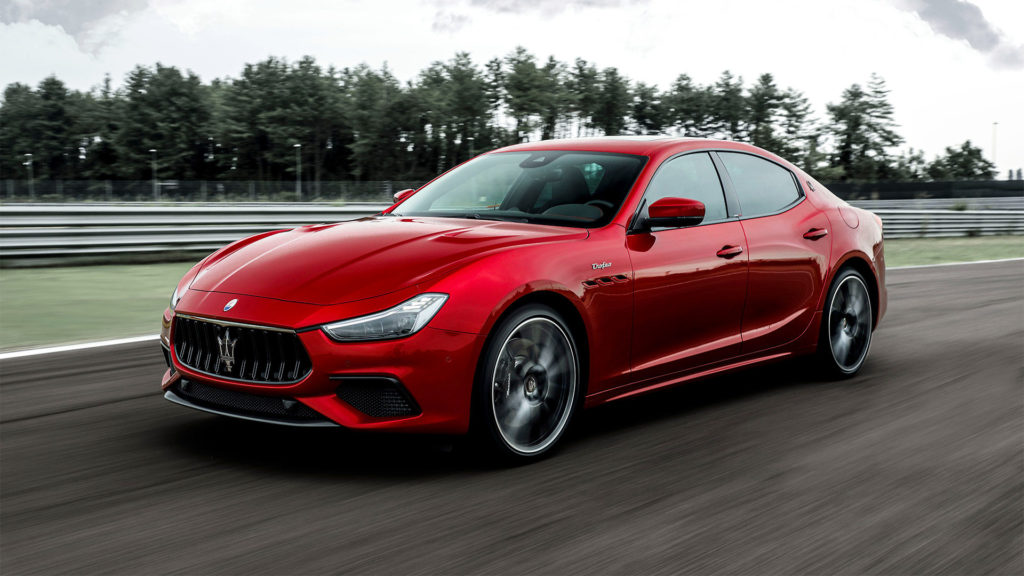 This 2020 - 2023 product plan unveiled new models, evolutions, and the electrification of the range, without mentioning the discontinuation of a particular model...
New Maserati product plan 2020 / 2024: end of the Ghibli
On the occasion of the presentation of the Maserati MC20the Trident-based manufacturer presented the new Maserati product plan 2020 / 2024 to some of the people present there. A photo that was sent to us and that we share below.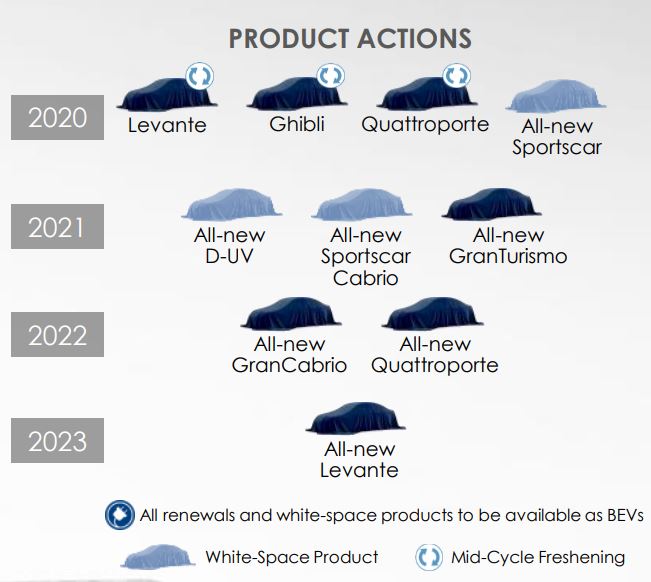 Unsurprisingly, the Maserati MC20, the spearhead of the range, will be available in coupe, spider and full electric.
The Maserati Quattroporte is finally renewed, a new generation certainly based on the extended Giorgio platform, which will compete with a certain Porsche Panamera.
Surprise, in the sedan range, the Maserati Ghibli will not be renewed! Yet it sold well when it was launched in 2013... it no longer fits the new brand positioning?
The GranTurismo and GranCabrio will be renewed, in 2021 for the first, in 2022 for the second. Available in thermal and full electric versions.
And finally on the SUV side, the Levante will also be renewed after the appearance of the new small SUV Maserati Grecale which will also be unveiled next year. Both in full electric and in thermal.
On the top right in the capture we can see that with this product plan Maserati seems to cover 90 % of its car market. Will the Ghibli and the GranTurismo finally become one?This means 5 doors for the GT instead of 3 to compete with the Porsche Taycan?
The used Maserati Ghibli
Until then, the Maserati Ghibli will only be available as a used car but be careful for this kind of luxury sedan to check the history of the car, the knowledge of the seller and if possible acquire a mechanical breakdown guarantee. You can browse the websites of Maserati dealers who have a fleet of used Ghibli cars with a good follow-up, or consult the car ad sites specialized in premium cars such as the Annonces-Automobile.com website where hundreds of Maserati are for sale (4200, GranSport, Ghibli, Levante, GranTurismo, GranCabrio, used Quattroporte), consultable and regularly updated by professionals and verified by the editor. The Maserati Ghibli is a reliable modelThe GranSport and GranLusso are the most sought-after models because they are better equipped. The GranSport and GranLusso versions are the most sought after because they are the best equipped. Very well maintained models with good equipment are available from 40 000 €. Depending on the mileage and the engine (V8 engine for example), the price can go up to 100 000 €. To this must be added the price of theMaserati insurance which will vary between 1000 € and 2000 € per year depending on your bonus / malus, your city and the value of the vehicle.