It was to be expected! With Europe announcing a ban on the sale of combustion engine cars in 2035, manufacturers are all announcing, one after the other, that their range will be 100 % electric: Volkswagen, Mercedes, Jaguar, BMW, Honda, Fiat, etc.
This is how the brand Alfa Romeo pragmatically follows the movement. Alfa Romeo to offer 100 % electric range in 2027.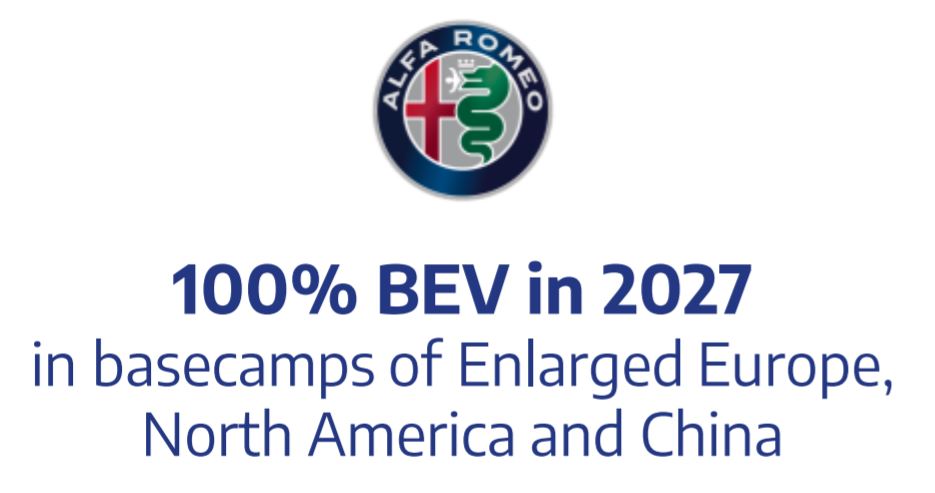 We will update our article on the future Alfa Romeo range in a few days but, with an announcement like this, the future range is rather easy to make.
Just cross-reference the various announcements of the last few months, the DS range which has become a sister brand in the Stellantis galaxy and the table below which announces that future electrified models will be BEV and PHEV only (goodbye MHEV) and that by the first half of 2023 there will only be the Tonale as a new model at Alfa Romeo.
In our opinion, this is the range that Jean-Philippe Imparato, who is due to unveil a 5-year product plan, is preparing for Alfa Romeo 2027 :
100 % electric city car (new MiTo sister to the e208, from 2025 or 2026)
B-SUV 100 % electric (Brennero late 2023 / early 2024)
C-SUV 100 % elecrtric (Tonale PHEV first in 2022 then all electric)
D-SUV 100 % electric (Stelvio in 2025)
Sedan 100 % electric (Giulia e 2026)
E-SUV 100 % electric (sister of the DS7 Crossback, from 2027)
Large 100 % electric sedan (sister of the DS9, from 2025 or 2026)
The question is: how to keep the DNA of a premium / sporty brand, the "fun to drive" with all-electric?
In the next few years, all manufacturers will be racing to offer the best compromise between autonomy, power and charging time.
Finally, it should be noted that Stellantis had announced that an electric car will have to be offered at the same price as a thermal car in 2026. That's why we should see the majority of electric Alfa Romeo 100 % from 2025 / 2026.