This Maserati GranTurismo FolgoreWe have been talking about it at (FCA) Stellantis for more than 2 years now and it is finally coming true! She is the one who must inaugurate the electrification of the Trident brand (well, it used to be the MC20 but in marketing Maserati they must have said that with the GranTurismo it would be better). Marketing and production in 2023.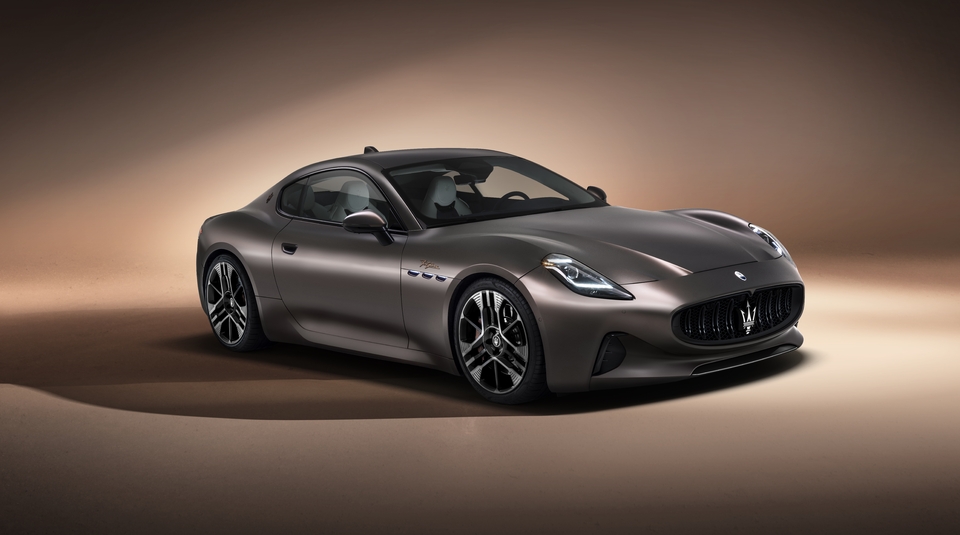 The Maserati GranTurismo Folgore is a 4-seater (2+2) sports coupe that has the heavy task of replacing the V8-powered GranTurismo that was produced and marketed from 2007 to 2019 at almost 29,000 units (not counting the GranCabrio version).
This new Maserati model has a real card to play because Lamborghini and Ferrari have not unveiled their 100 % electric cars. At Aston Martin it will arrive in 2025, at Porsche the new version of the Taycan will arrive only in 2027. Tesla already has the 1020 hp Model S but does not have the image of a luxury brand, etc.
Returning to the new GranTurismo Folgore, here are the first official images and good news, design is not a revolution but an evolution.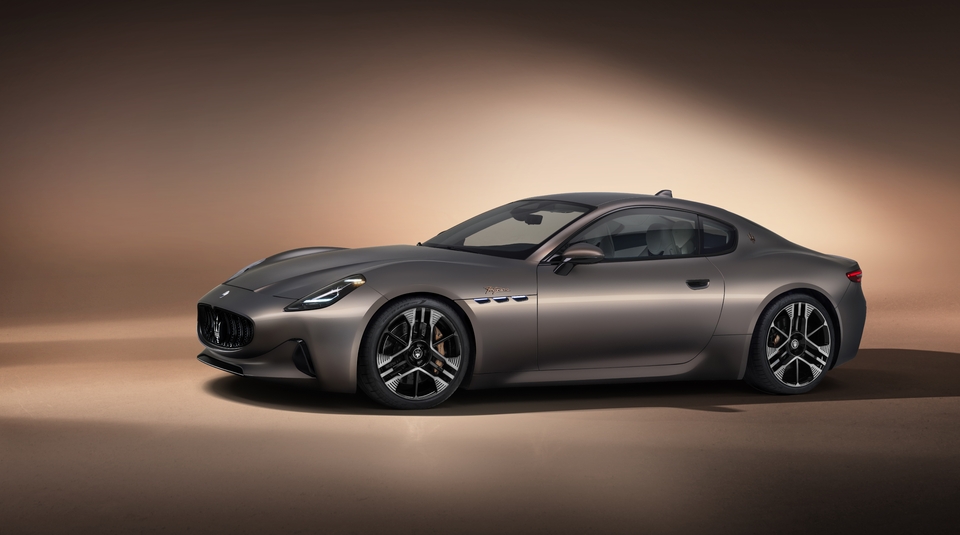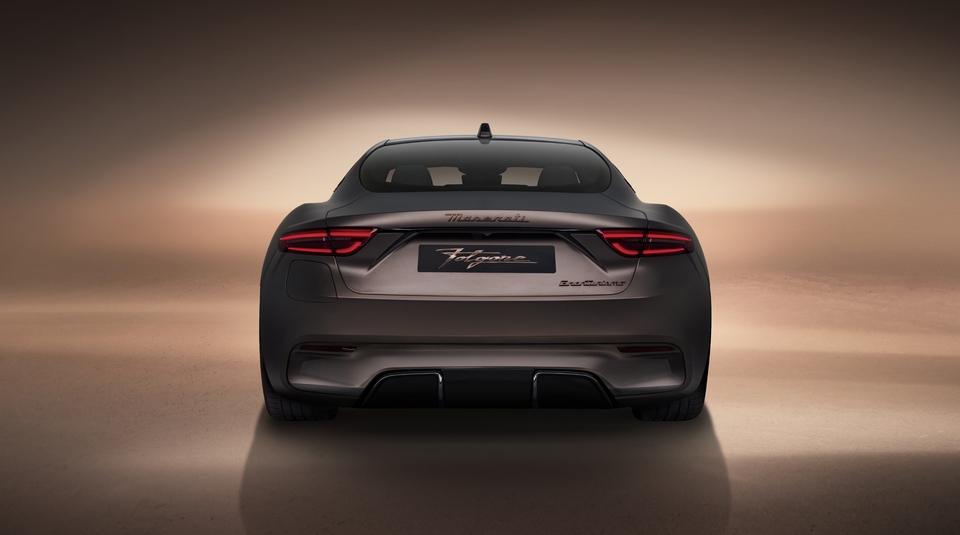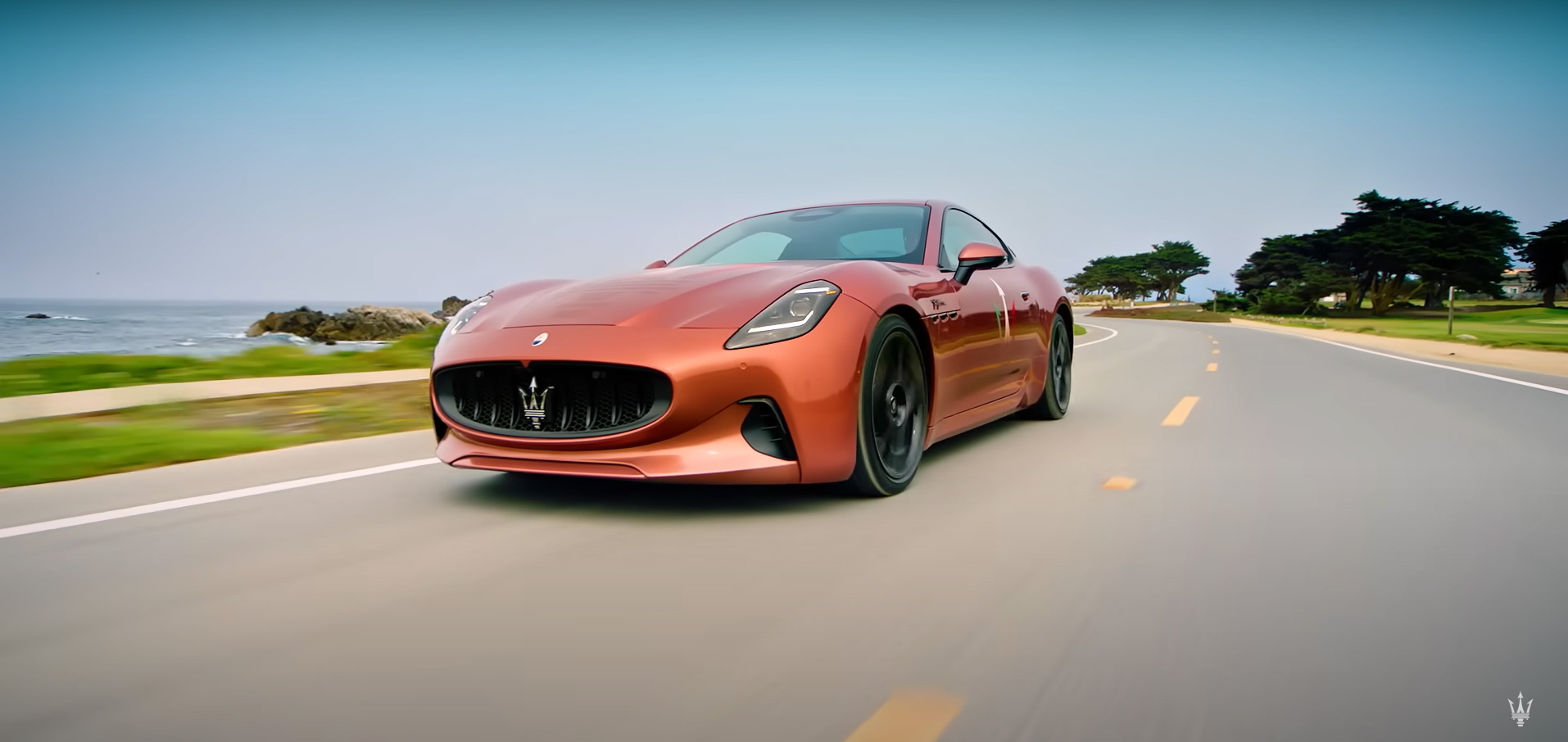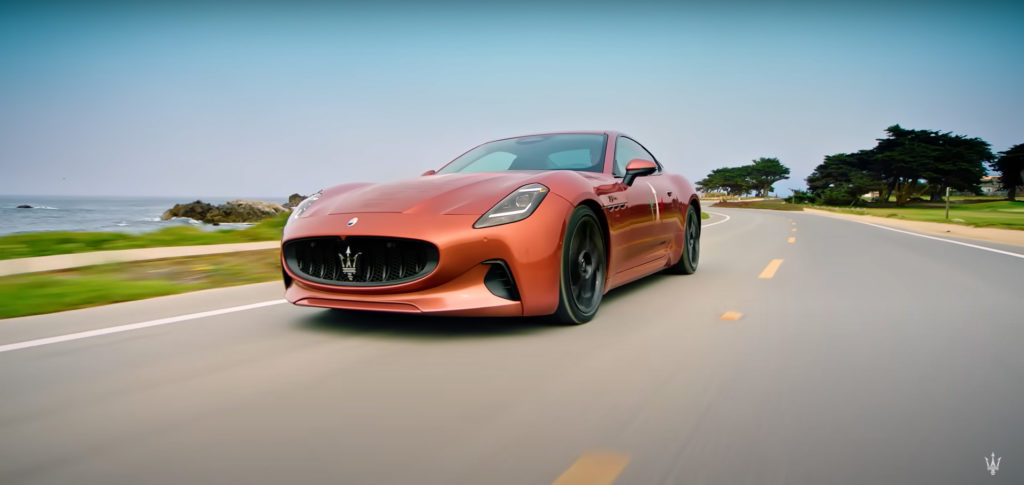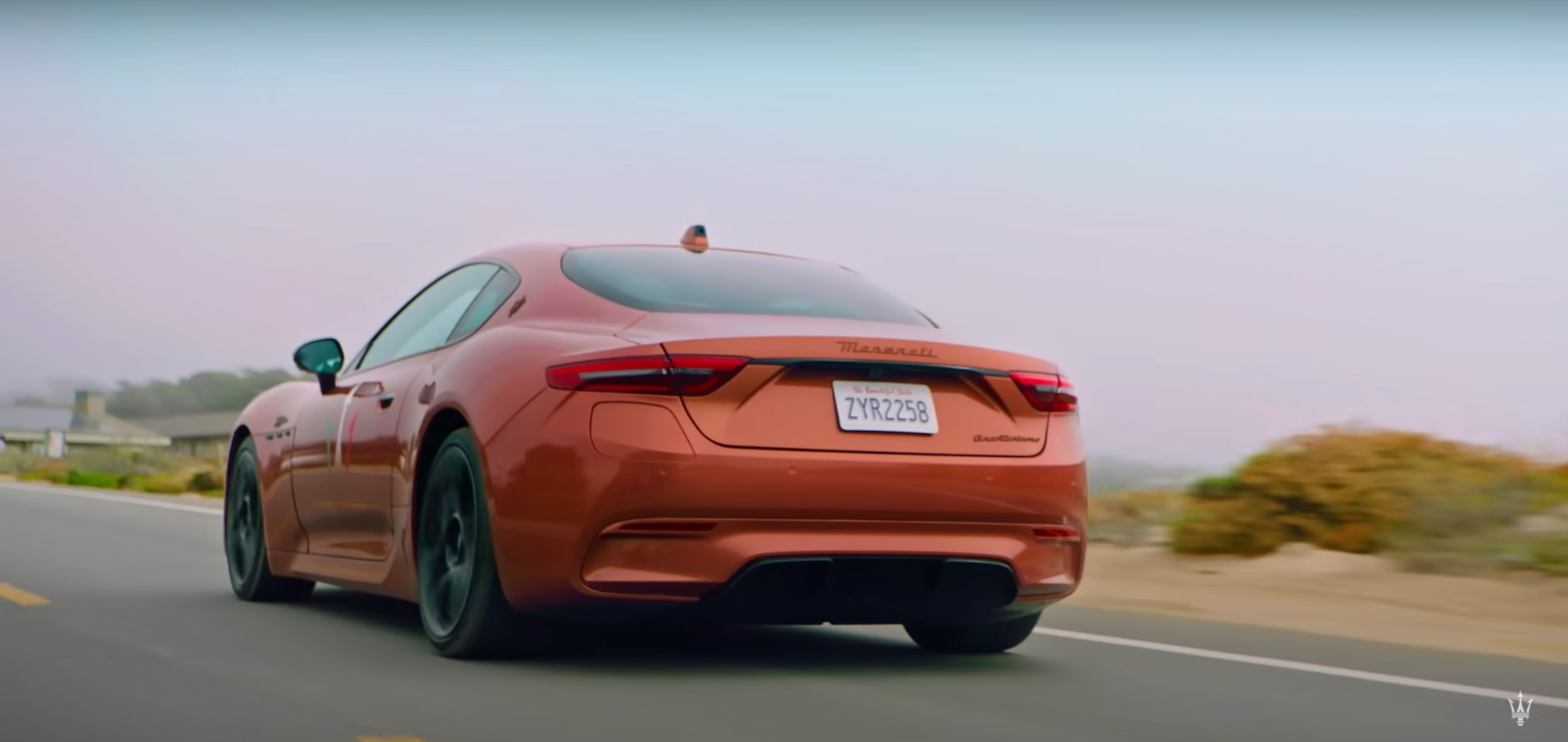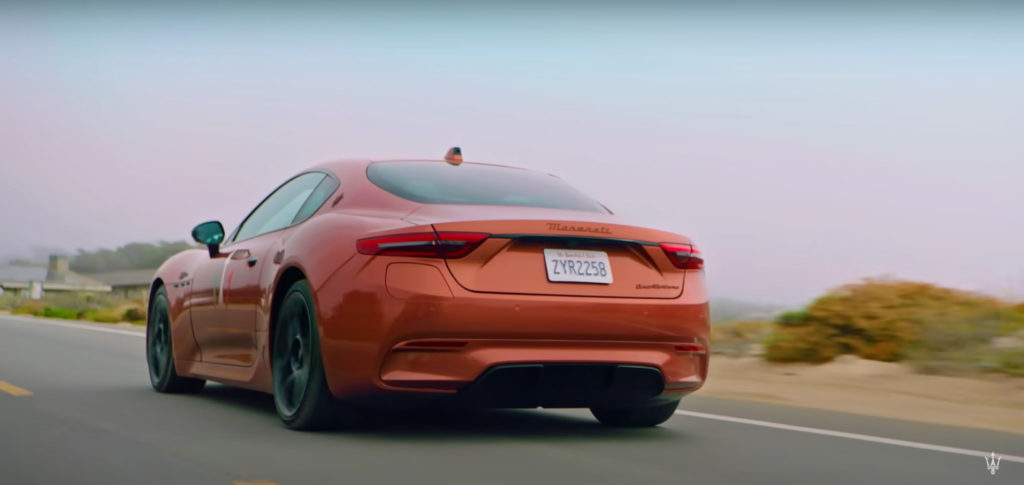 One recognizes well the design of the old GranTurismo but updated with curves are more marked, the front lights which take again the style inaugurated with the Maserati MC20The rear lights are also changing. The side turn signals are found on the outside mirrors. Otherwise, the design of the old GranTurismo is still the same.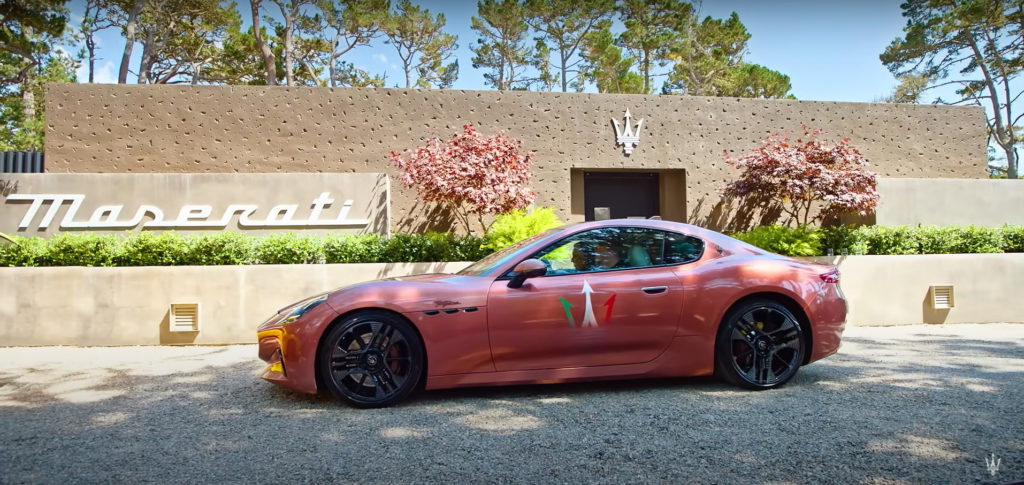 The design of this new Maserati GranTurismo Folgore is less sporty than the old ones but we have to remember that this is an electric car with very worked aerodynamics, in roundness. It is possible, even probable, that the future Maserati GranTurismo with the Nettuno V6 will have sportier front and rear bumpers and, why not, side air intakes like on the MC Stradale.
Inside very few pictures but it is a mixture of sport and luxury.
Features of the Maserati GranTurismo Folgore
Here are the features of the Maserati GranTurismo Folgore that we know so far:
800V architecture;
Advanced Giorgio platform;
Produced in Mirafiori ;
3 electric motors offering a power of 1200 hp
Batteries located in the center tunnel of the car for a low center of gravity
0 to 100 km/h in 2.7 seconds
maximum speed of 320 km/h.
We don't know the dimensions yet but they should be close to those of the old GranTurismo, i.e. 4.88m long, 1.92m wide and 1.35m high.
Beware, if the engines of the Maserati GranTurismo Folgore can offer a power of 1200 hp, the battery of 92.5 KWh can transmit a power of 760 hp to the wheels.
The power of the Maserati GranTurismo Folgore is therefore 760 hp... waiting for new batteries?
Maserati GranTurismo Folgore Prices
Maserati has not yet revealed a price for this Maserati GranTurismo Folgore.
However, a Tesla Model S Plaid with 1020 hp is priced from €138,000, a Porsche Taycan Turbo S Sport with 761 hp is priced at €194,000, so it would not be surprising to see the price of this Maserati GranTurismo Folgore approach or exceed the price of 200 000 €..
Maserati GranTurismo Folgore against the competition
For the moment, the Maserati GranTurismo has two competitors: the pioneering Tesla Model S Plaid and the Porsche Taycan, which has been very successful since its launch.
| | Maserati GranTurismo Folgore | Tesla Model S Plaid | Porsche Taycan Turbo S |
| --- | --- | --- | --- |
| Dimensions (meter) | 4,96×1,96×1,35 | 4.97x1x96x1.44 | 4,96x1x96x1,37 |
| Weight | 2260 kg | 2162 kg | 2395 kg |
| Motors | 3 motors 800V | 3 engines | 2 motors 800V |
| Battery | 92.5 kWh | 95 kWh | 83.7 kWh |
| Autonomy | ? | 600 km | 353 km |
| Power | 760 hp | 1020 hp | 761 hp |
| 0 to 100 km/h | 2.9 sec | 2.1 sec | 1.7 sec |
| 0 to 200 km/h | 8.8 sec | 9.23 sec | 9.6 sec |
| Max Speed | 320 km/h | 322 km/h | 260 km/h |
| Price | ? | 140 000 € | 193 000 € |
Video Maserati GranTurismo Folgore
To unveil the Maserati GranTurismo, the Italian brand went to California, accompanied by Sebastian Maniscalco, an American actor and comedian who took his little ticket for this video (David Beckham is probably less known in the country of Uncle Sam).
In short, you can hear from time to time the artificial sound created by Maserati to evoke internal combustion engines. This is still an electric car, so don't get upset in the comments!
Maserati GranTurismo Folgore Gallery