It's finally possible to try the new Fiat 500 electric which we have been talking about for more than two years on this site. Marketed since a few weeks, this new electric 500 is of a capital stake for the brand: new platform, new engine, made in Italy,... it must seduce the customers, emanate the dolce vita, and meet the same commercial success than the previous Fiat 500, which has sold more than 2 million units worldwide since its release. Drive! Silence....
External presentation
As for the design, the challenge was to keep the codes that have made all the 500s successful: small, attractive, easy to handle, 4 seats. The test model is a 500 electric Icon color Rose Gold with 16″ rims.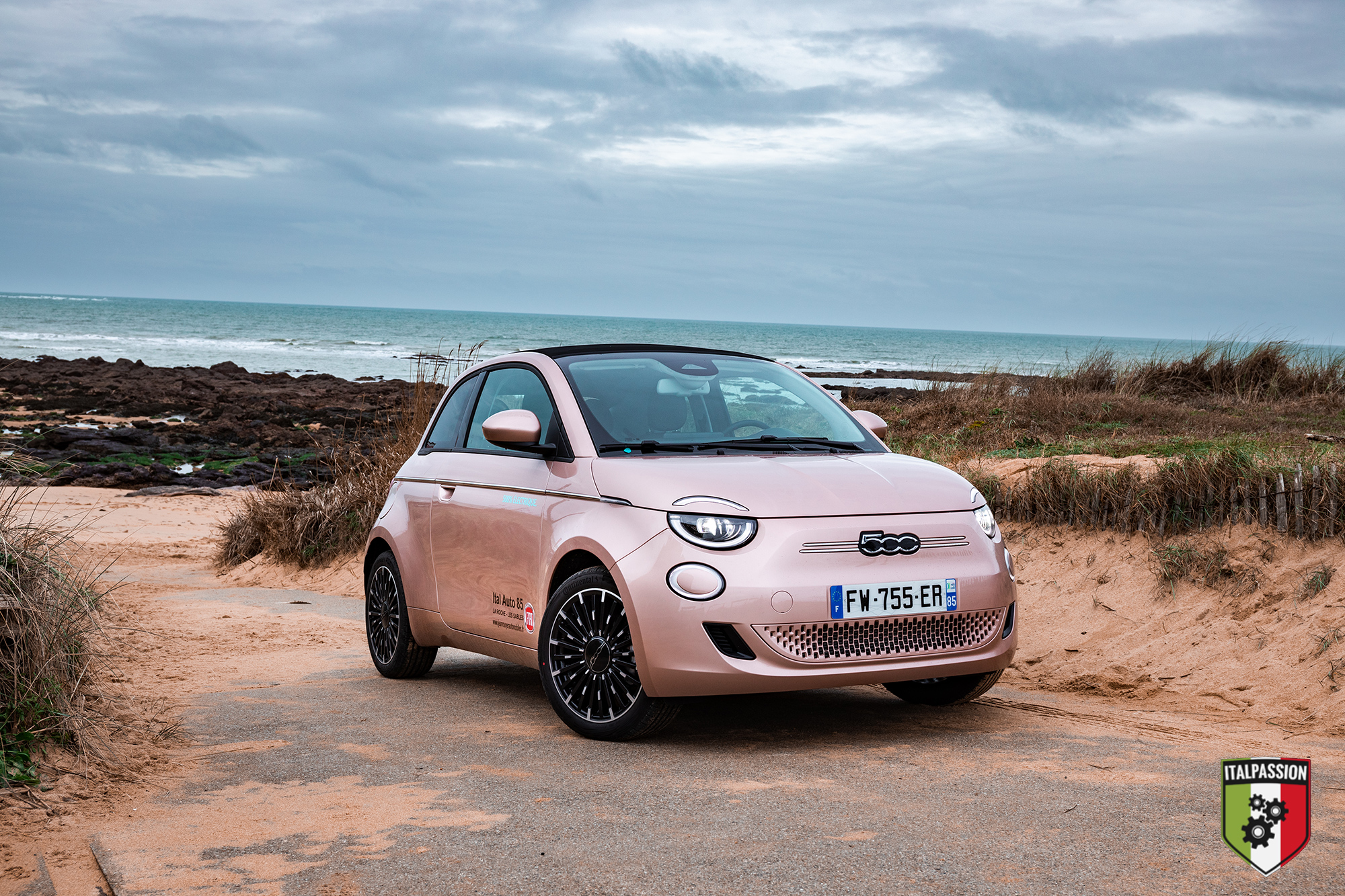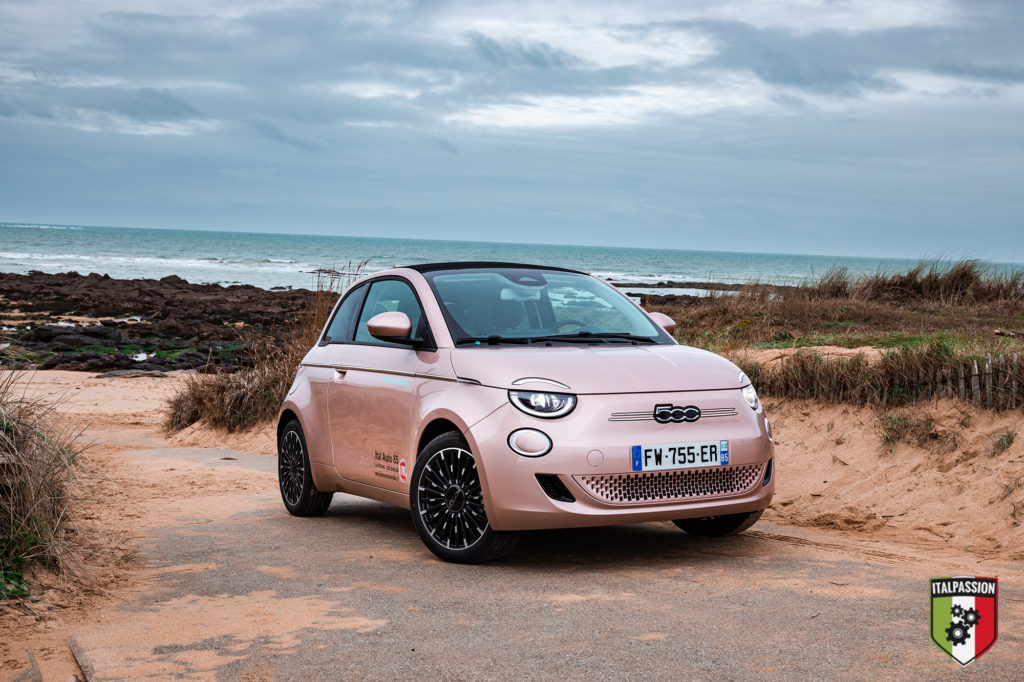 For this new electric 500, the designers did not take any risks because we find the silhouette of the previous 500 but with a more modern look. The logo Fiat is replaced by a 500 logo. The front air intake has been reduced and is painted in body color. Of course there are also new front and rear lights and some other details...
In terms of dimensions, it keeps the codes of a small car with 3.63m long, 1.68m wide and 1.53m high.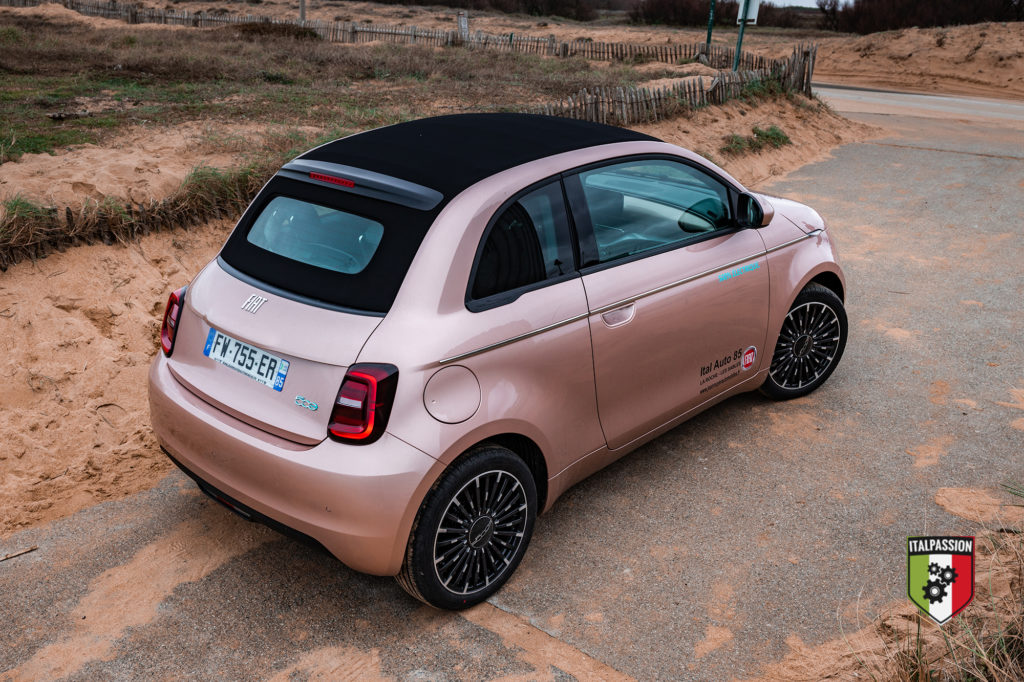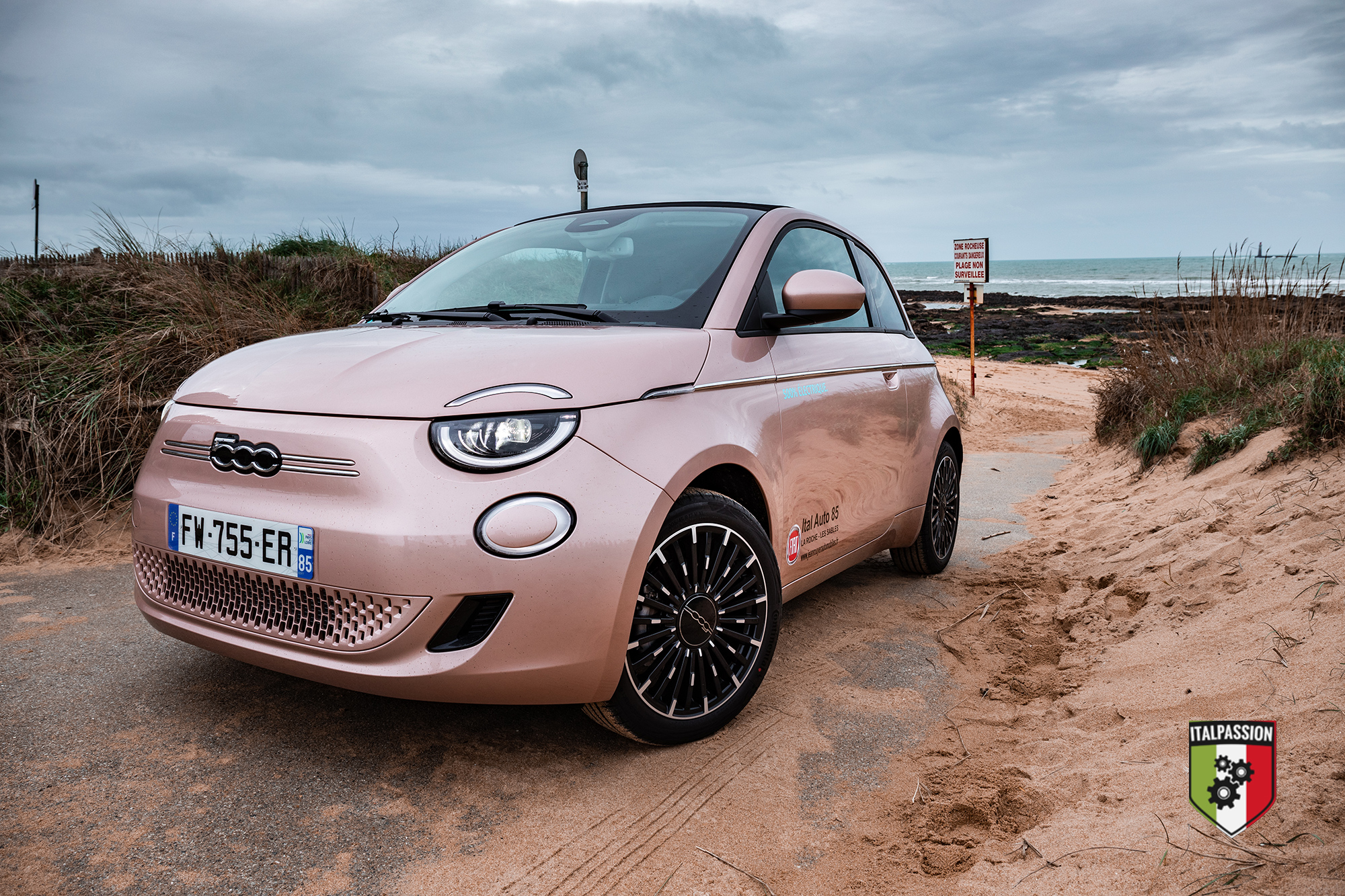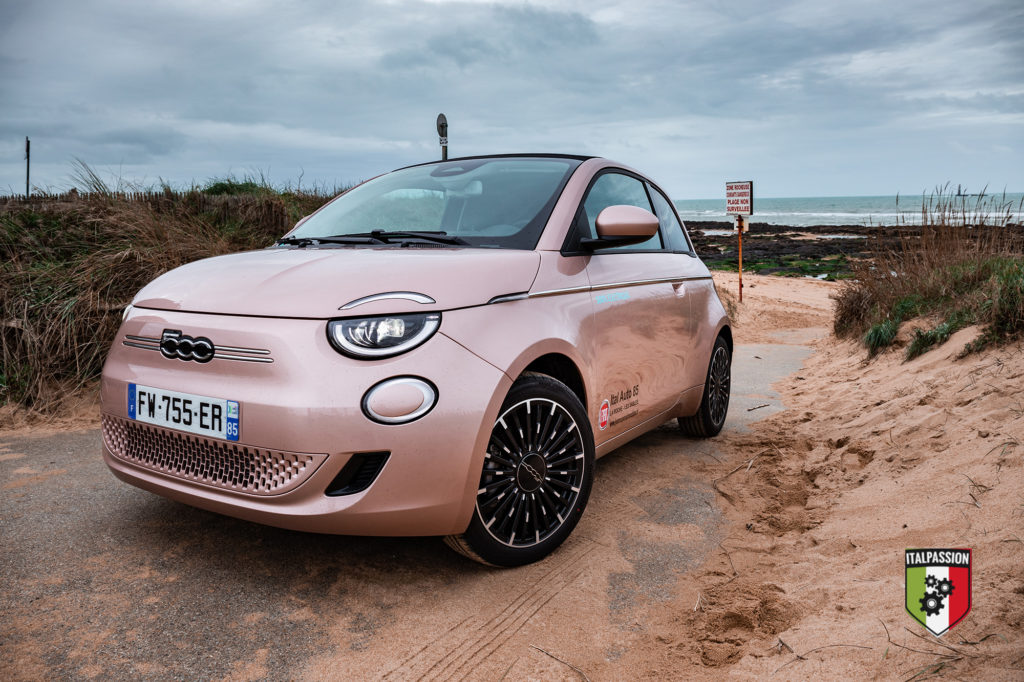 In any case, 4-seater electric city car convertibleThis 500 ticks a lot of boxes! In the convertible version, the trunk offers a capacity of 185 L, as on the thermal version.
Interior presentation
On this finiton Icon, the dashboard takes the color of the bodywork. Always on this finiton are proposed a 10″ touch screen with the new Uconnect system and a induction charger (wireless) for smartphones. The new Uconnect system found on the new Jeeps and even on Maserati is really at the level and sometimes above the competition. In my opinion, it's more efficient and complete than Alfa Romeo, Lexus, etc.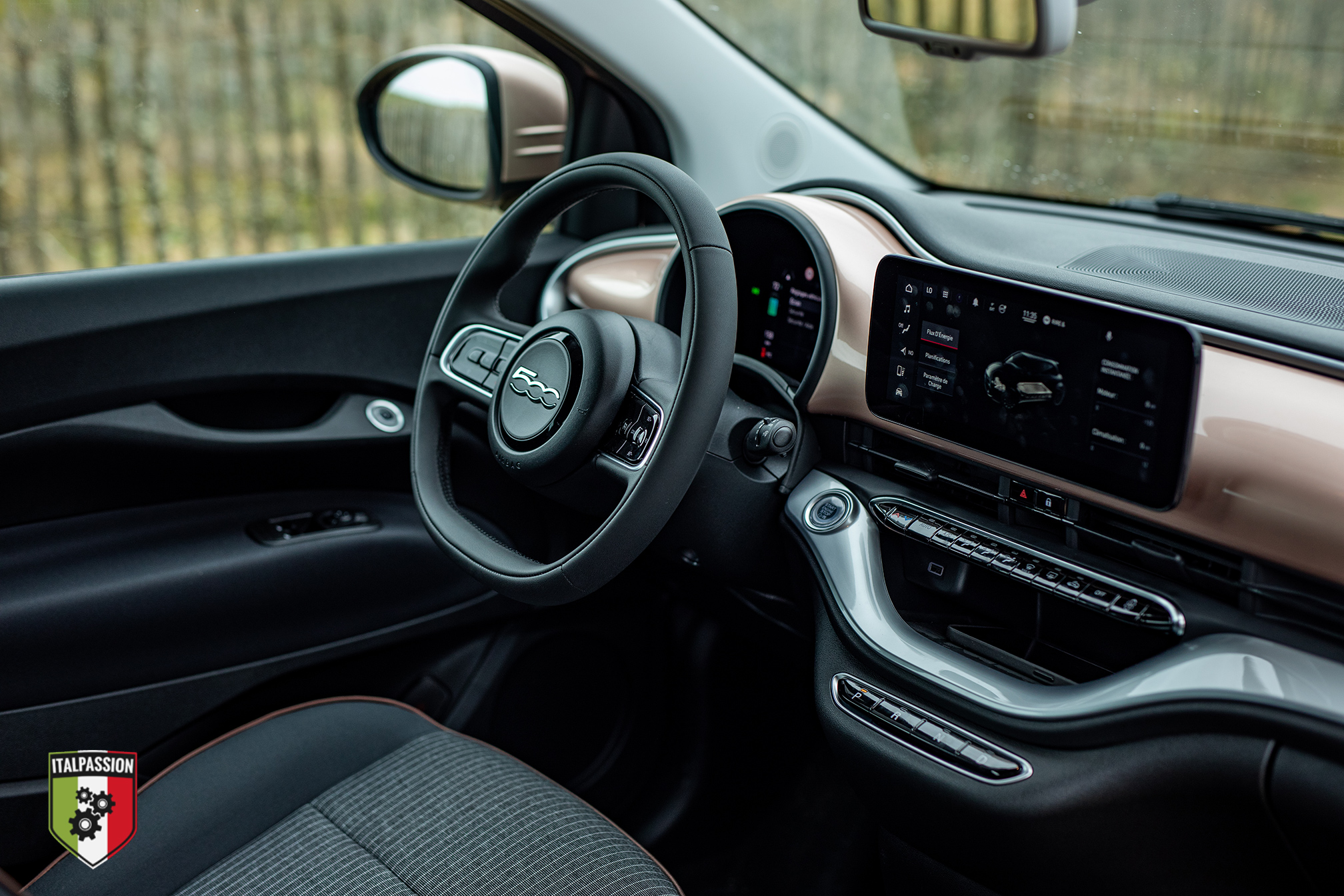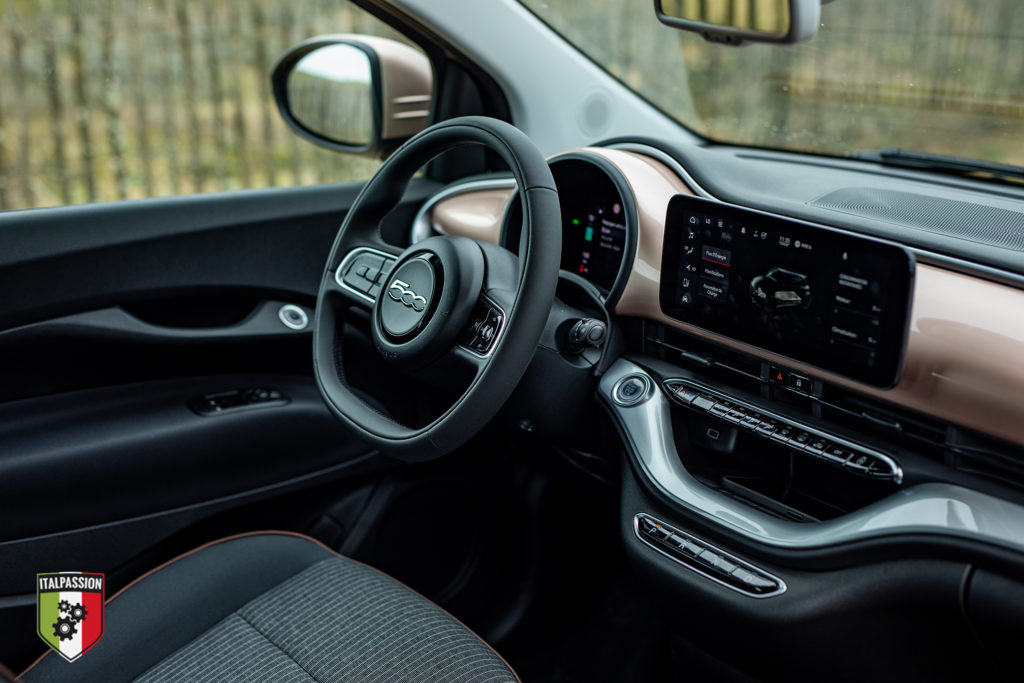 The whole thing is well finished, the assembly quality is premium. However, if it's not shocking to the eye, I was a bit disappointed by the feel of the hard plastic above the dashboard and on the doors. For the price of the car, I think that another material would have been possible.
The whole thing may seem a bit austere at the moment. Fortunately, in the Icon trim, the dashboard gives some color. We will wait for other colors for the seats and plastics in a future range...
Note that the opening of the doors from inside is done via an electric button. It's nice, but not much more!
Rolling... in silence
The electric motor offers a power of 118 hp and a torque (always available) of 220 Nm. On paper, this gives a 0 to 100 km/h in 9 sec and a 0 to 50 km/h in 3,1 sec. On the road, I was very pleasantly surprised by the good acceleration and recovery even at high speeds of this electric 500. You will be able to surprise more than one person when overtaking. It should be noted that this little car weighs 1,365 kg, including 295 kg of batteries. That's light! For comparison, the Fiat 500 electric is lighter than a Renault Zoe (1,502 kg), a Honda e (1,524 kg) and almost as heavy as a BMW i3 (1,345 kg).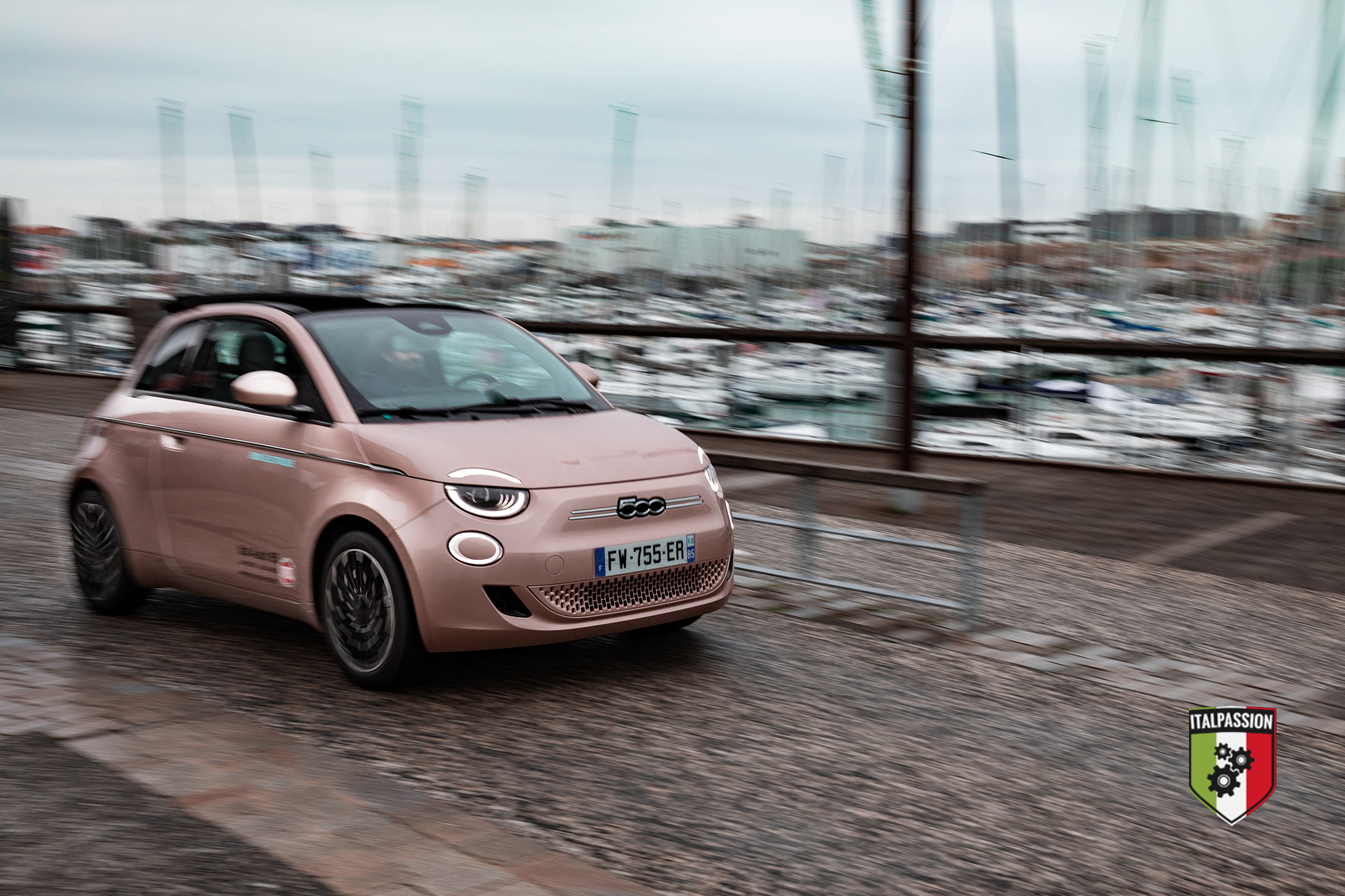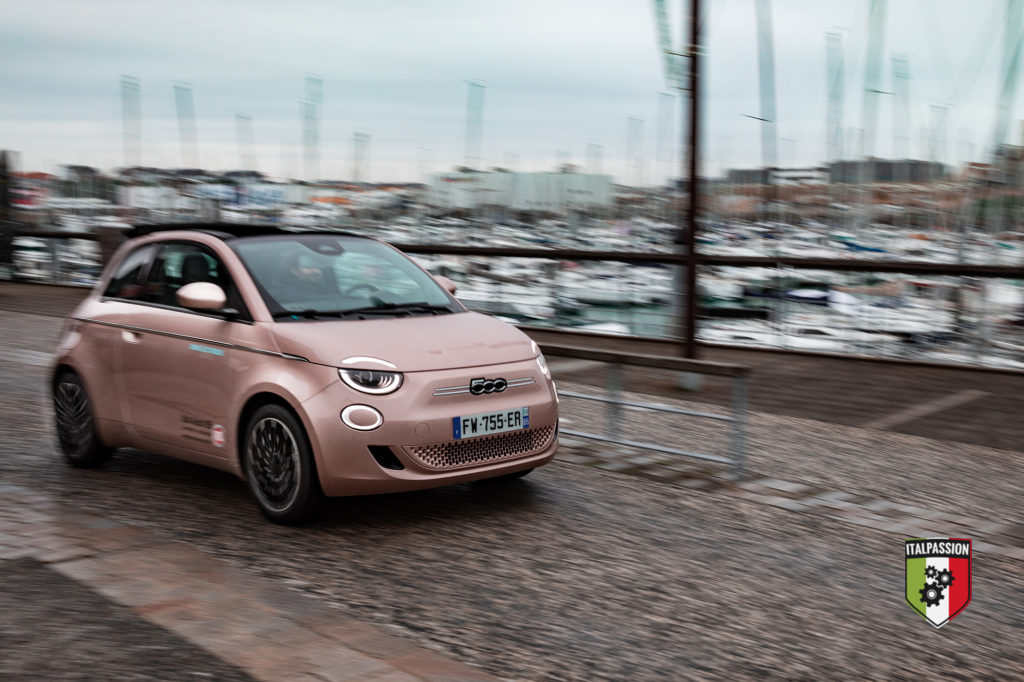 For all situations (fast departure on a roundabout, overtaking even on the highway, etc.) the engine power is available. The electric 500, although its steering is very smooth, is playful. Even at high speed. It is quite possible to be at 110 km/h and quickly reach the vehicle's Vmax, 150 km/h, thanks to the torque of the electric motor always available. It's pleasantly surprising. There are several driving modes (Normal, Range and Sherpa) but I think that a "dynamic" mode is missing, which would give the steering and suspension a little kick at 0 to 50 km/h... maybe more feeling for the Abarth version planned for 2024.
Another strong point of this electric car: silence of course! Between the electric motor and the soundproofing of the car, what a comfort to be able to talk to your passenger without raising your voiceAs if you were at home in your living room.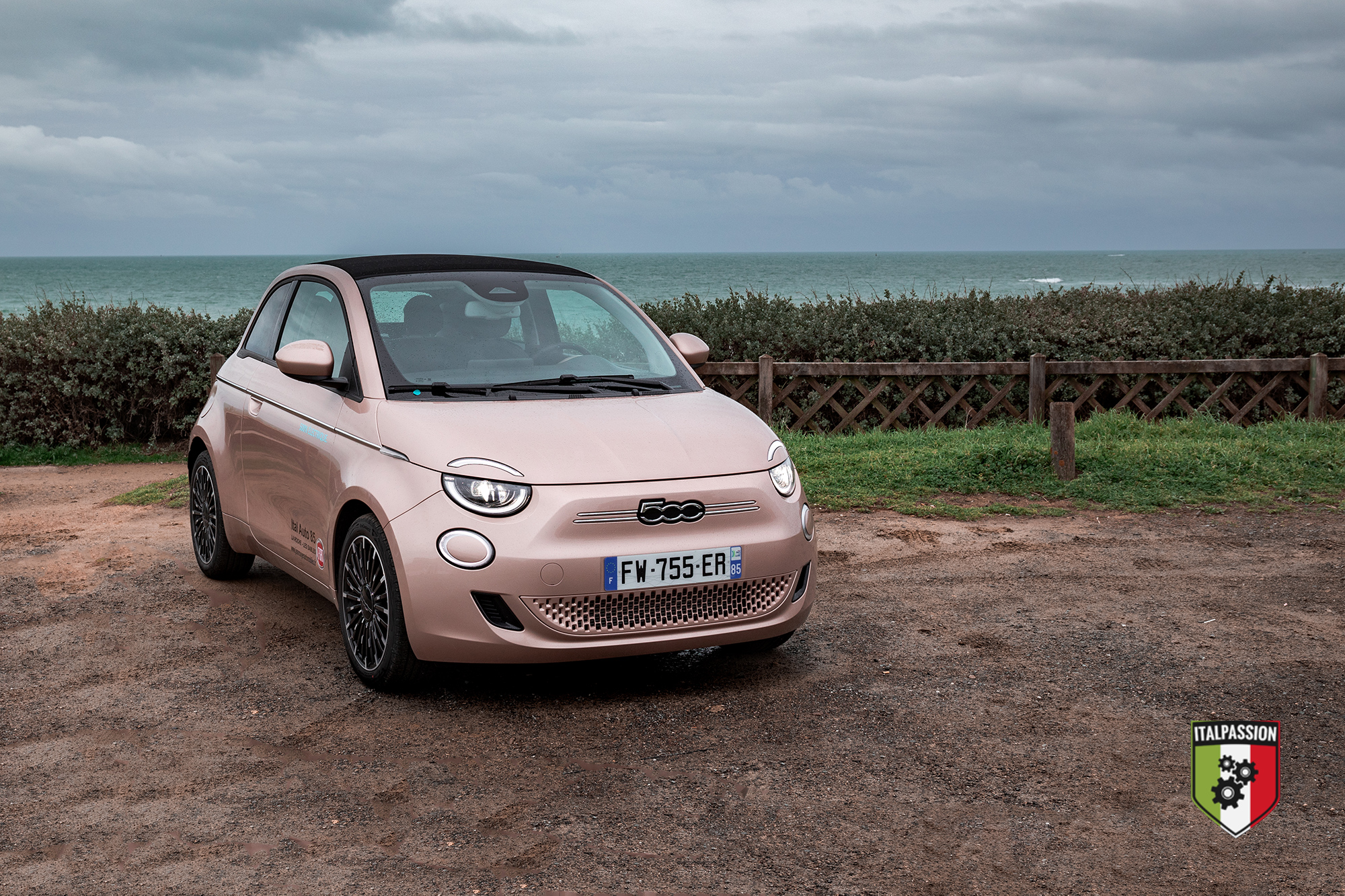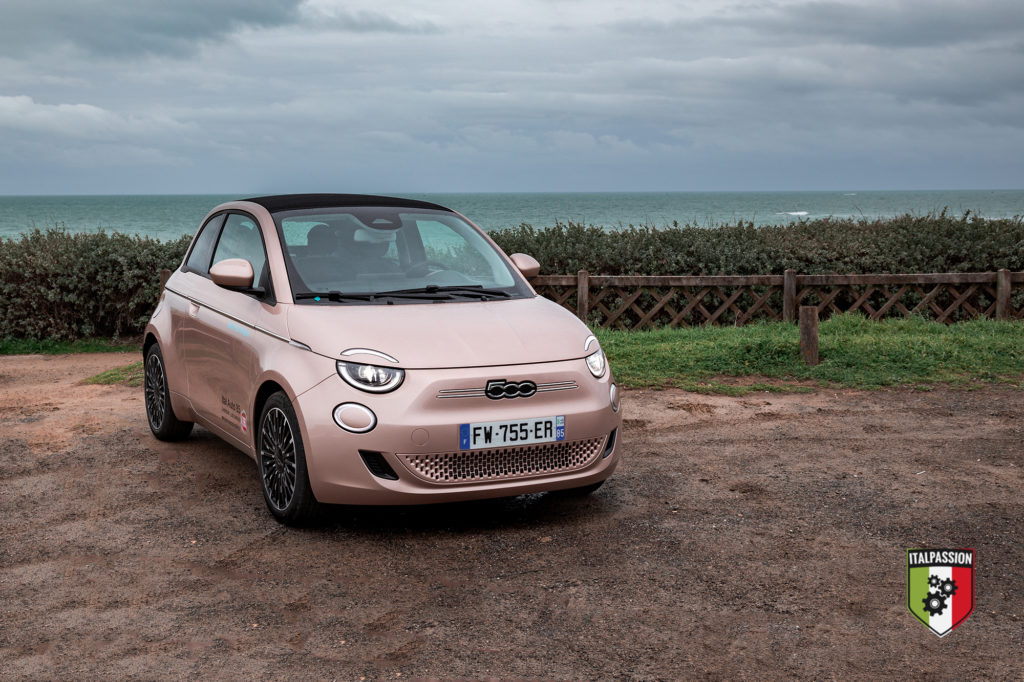 The range, according to the WLTP standard, is 320 kilometers. This is quite realistic, because during the test drive, the driving was very dynamic at low and high speeds (500 electric was able to keep up with theMaserati Ghibli Hybrid test drive which took place the same day), and offered a little over 220 km of autonomy, or a consumption of 19 kWh / 100 km. In "normal" driving this car it is, I think, it is possible to travel much more than 300 kilometersThis means a consumption of about 14 kWh / km.
Charging time
Charging an electric car can be a difficult subject to understand. To put it simply, at home, without a wallbox, it takes 9 hours and 15 minutes for a full charge. For partial load times, and in public, the diagram below explains it.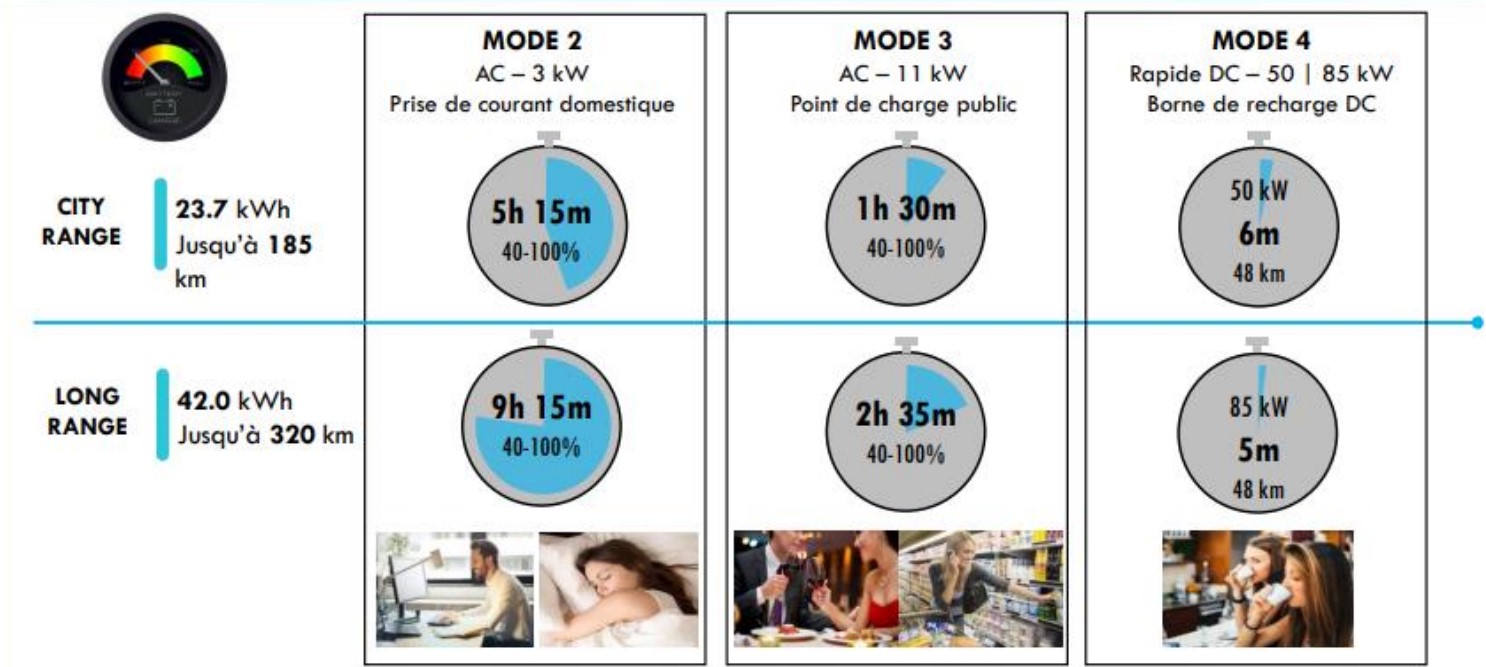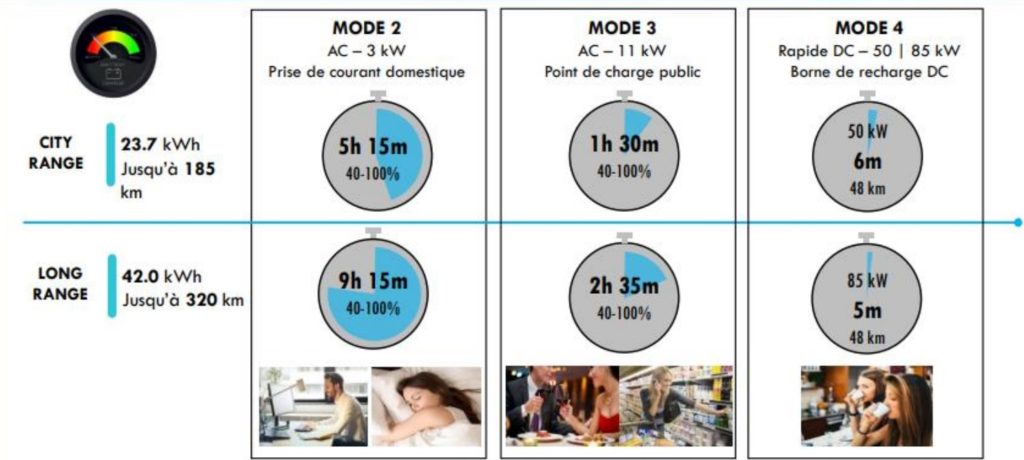 In everyday life, you plug in your car every night and in the morning it is charged for the day. To make longer trips, you will have to make your route of charging stations, if possible Mode 4 which allows to charge for 50 kilometers of autonomy in only 5 minutes and 80 % of full capacity in 35 minutes. The good sense is thus to choose this 500 electric only within the framework of trips of a radius of 300 kilometers unless you want to cross France in 3 days to be able to recharge the batteries
Prices and range of the Fiat 500 electric
The 500 electric in our test is a convertible 118 hp Icon finish, priced at €32,900 excluding ecological bonus. That's almost €10,000 more than a Fiat 500 cabriolet gasoline hybrid 70 hp sport finish.
The price increase is explained by the price of the batteries and by the fact that this electric 500 is manufactured 100 % in Italy (in Mirafiori, where the Maserati Levante is made) unlike its predecessor, which was made in Poland. Note that, in order to reassure the buyer, the car is guaranteed for 2 years and the batteries for 8 years and 160,000 kilometers.
The 500 electric range is composed of several finishes:
Action Only in the sedan version, very attractive price thanks to the use of a 23.7 Kwh battery (and therefore reduced range);
Passion : cruise control, 15″ wheels, 7″ touch screen, 42 Kwh battery;
Icon : rain sensor, smart speed limiter, reverse radar, 16″ wheels, autimatic climate control, 10″ touch screen, 42 Kwh battery.
Icon more : automatic low and high beam, 17″ wheels, led lights, central armrest, panoramic roof, wireless smartphone charger, 42 Kwh battery.
| | Sedan | Convertible | 3+1 |
| --- | --- | --- | --- |
| La Prima | 34 900 € | 27 900 € | 36 900 € |
| Icon more | 31 500 € | 34 500 € | 33 500 € |
| Icon | 29 500 € | 32 900 € | 31 500 € |
| Passion | 27 500 € | 30 900 € | 29 500 € |
| Action | 24 500€ | / | / |
The Fiat 500 electric 3+1 is a sedan version with a front door.
Available in 9 colors, the colors of the 500 electric are "mineral". For more classic colors such as yellow, red, etc., it will certainly be necessary to wait a few months for this to arrive in the catalog.
Conclusion : 500 % successful ?
One would think that Fiat would have just taken the existing 500 and installed batteries and an electric motor... but it's really aa brand new 500.
She is always small, has the 500 "retro-modern" lookIt is available as a sedan or convertible and is very lively thanks to its 118 hp.
Would the price be the issue? Not so much! A Renault Twingo 81 hp electric starts at €21,350, Renault Zoé 109 hp €32,500, a BMW i3 170 hp at €39,949. The 500 electric is very well positioned in price. Add a €7,000 purchase incentive in France for an electric car (until June 30, 2021), and that brings the price of our test model from €32,900 to €25,900. For the Action version, this brings the price down from €24,500 to €17,500.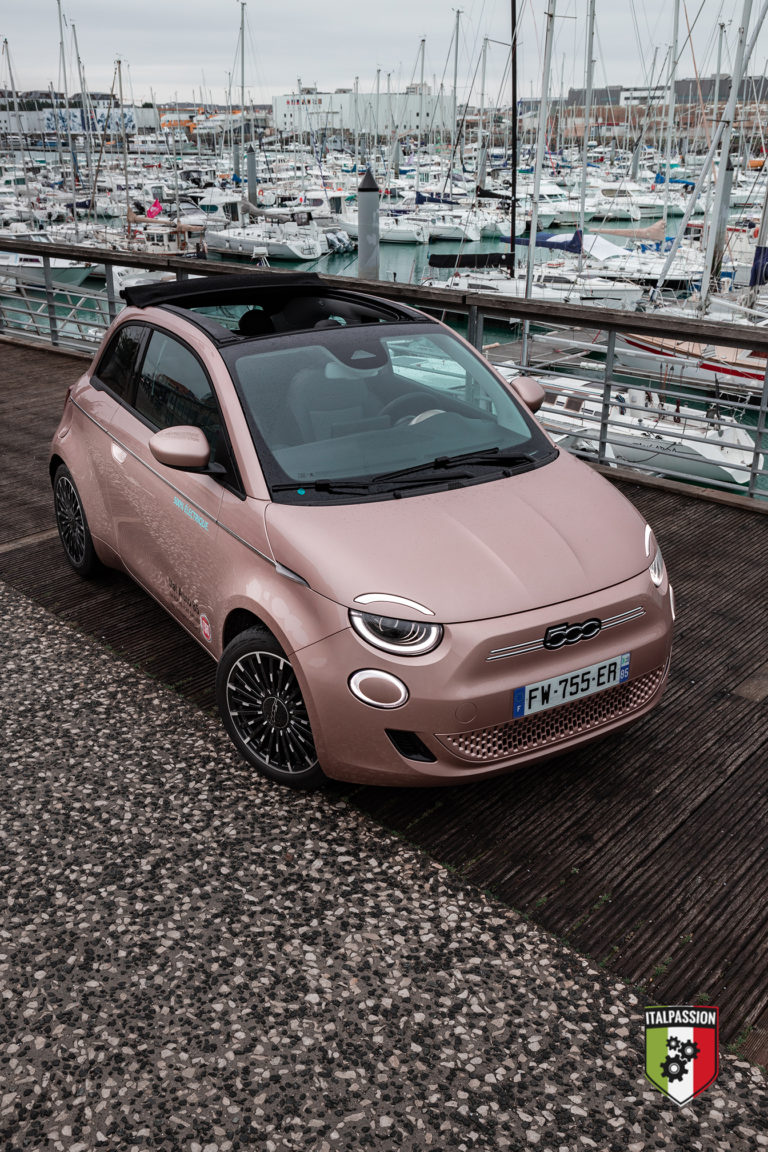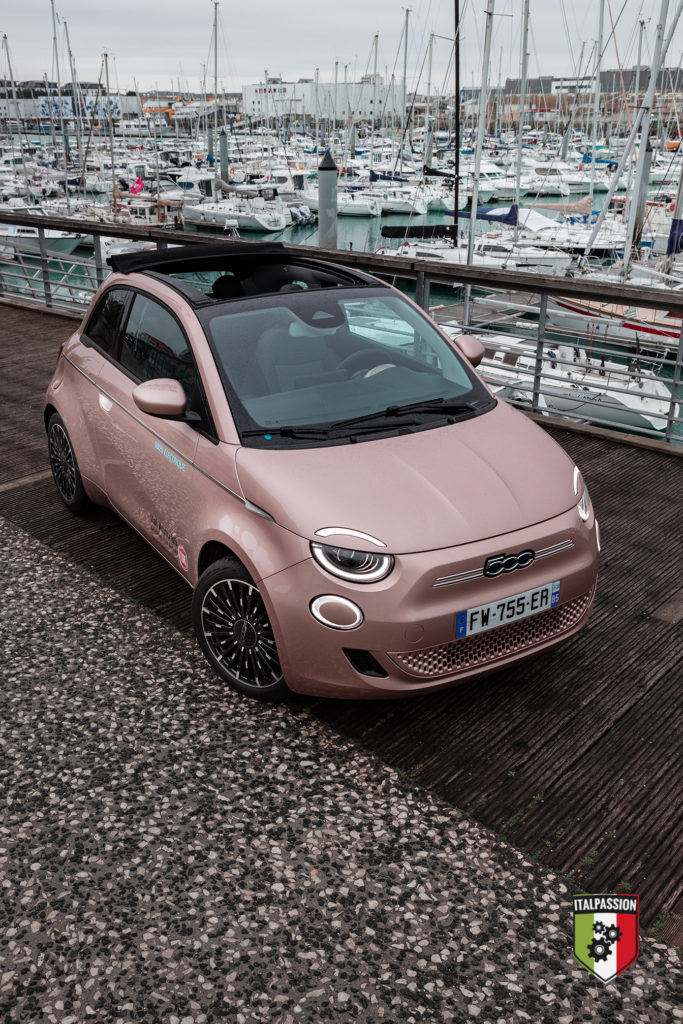 Like the previous 500, we imagine that this new electric 500 will evolve over time by offering more customization options. In the meantime, we must wish her all the success she deserves!
Thanks to Ital Auto 85 for the confidence and the loan of the car.
You have a 500 electric or you plan to buy one? Use our comparison ofFiat insurance.