The test of this Alfa Romeo Giulia is special because I personally have been driving a 2016 Giulia 200hp gasoline for more than 3 years, with almost 50,000 km on the odometer. I know it by heart.
What more can I say that I have not already said in 2016 Alfa Romeo Giulia 10,000 km test driveand how to do it an essay that is not only for the already convinced alfists of the many qualities of this Italian ?
In this essay, I will tell you about the new features of the 2020 version which corrects the weaknesses I listed in my 2016 essay and I will try to convince the non-alfist reader who hesitatesIf you are in the process of deciding to buy a (beautiful) sedan, read on. Ladies and gentlemen, if you are hesitating with an Audi, BMW, Peugeot, Volvo, Mercedes, Lexus or another brand of sedan, read on!
Giulia's DNA: cuore sportivo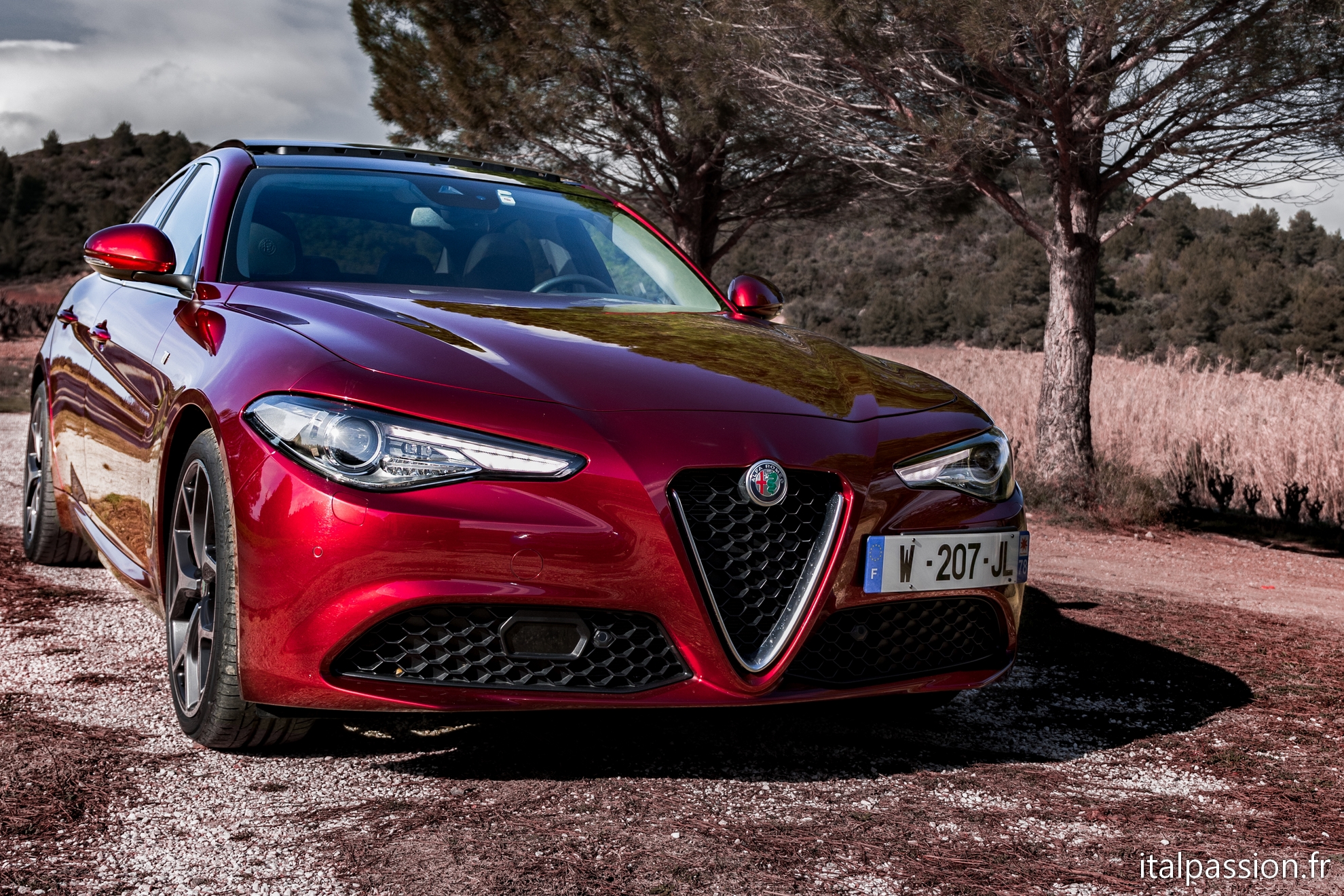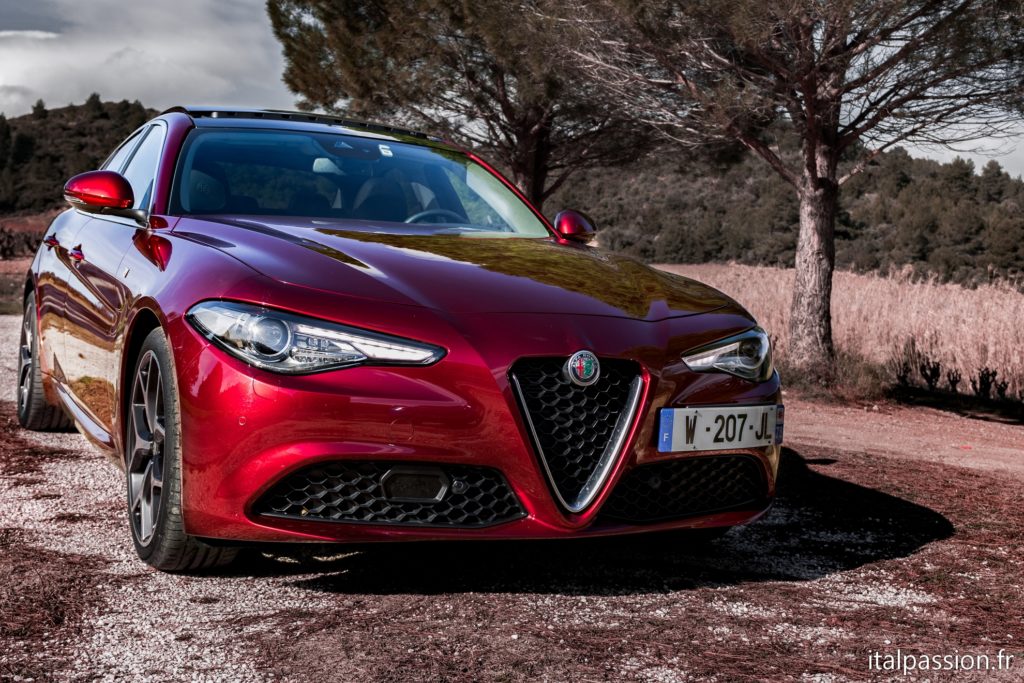 To begin and understand the genesis of the Giulia: Alfa Romeo is a sporty brand 110 years old, centenary, and, on the occasion of the 105th anniversary, it was decided to present a new car, a sedan, which ticks all the boxes of what should be the DNA of an Alfa Romeo: beautiful, comfortable, sporty and fun to drive.
Thus the Alfa Romeo Giulia was born as well as the model presented in 2015 in its sportiest version Quadrifoglio with its V6 engine of 510 hp. Why is it important to mention this? Because all the less powerful versions, even the cheapest one in the Giulia catalog, is equipped with the same features: chassis, transmission, suspension... this may not be an important criterion when you buy a car for everyday life, but it makes the difference in the car's behavior which offers a real driving pleasure whatever the engine. You have in your hands a sedan developed by Philippe Krief, current technical director of Ferrari. What other brand can boast this?
Design: exclusive, it always turns heads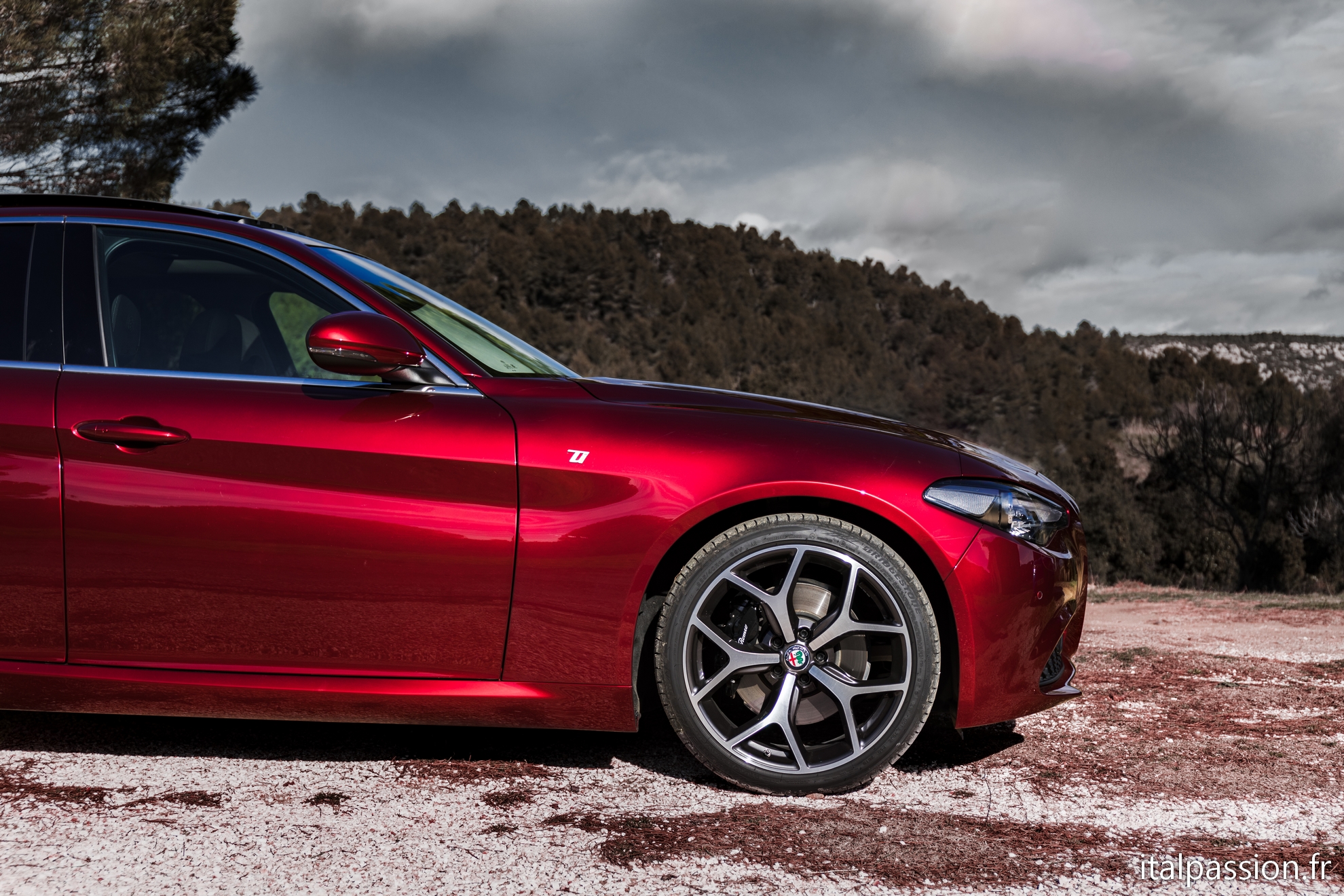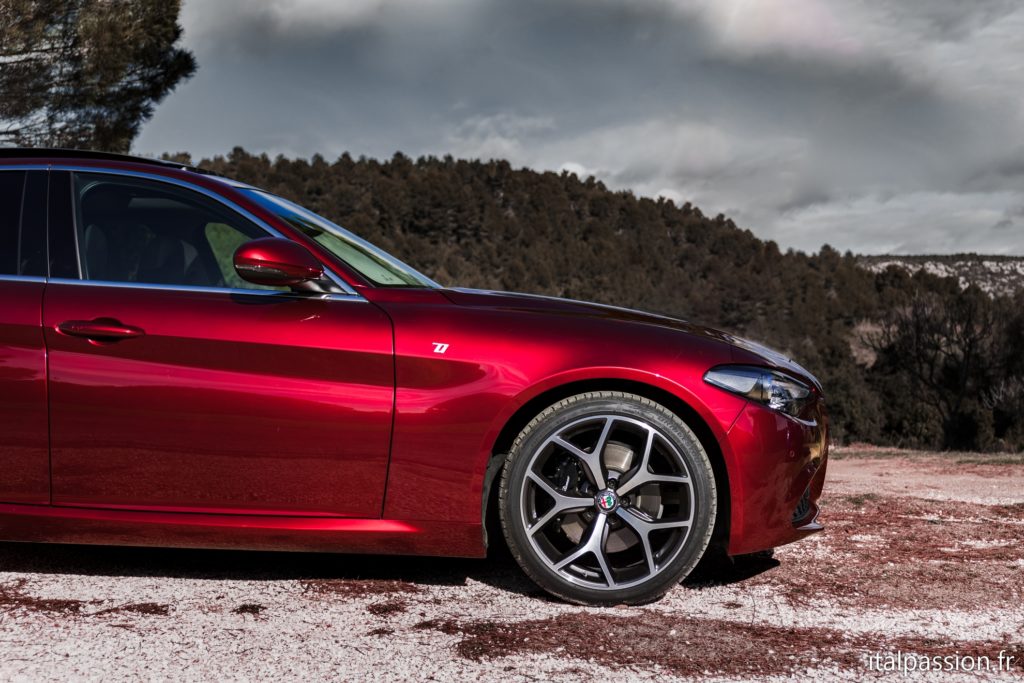 I remember when I got my Giulia in late 2016, there were very few of them in France and it was turning many heads (and raising thumbs), so much so that some were wondering what brand it was. More than 3 years later, even though we see more and more of them (especially Stelvio in my area), its design still pleases and does not age. It's normal, it's an Alfa Romeo.
What I like about Alfa Romeo, and therefore the Giulia, is customization possibilities during configuration. It is possible to make a car either "classy" or "sporty" or even both thanks to the Ti or Sprint finishing packs, but also with the choice of different customization options: colors, rims, calipers, rear view mirror, interior, everything is customizable. You can have a black sedan with a sunroof, beige interior, black calipers and 19-inch wheels or a red sedan, yellow calipers, double exhaust and 21-inch wheels. Bottom line, you drive in an exclusive premium sedan because you won't see the same one as yours on every street corneror even in a whole city.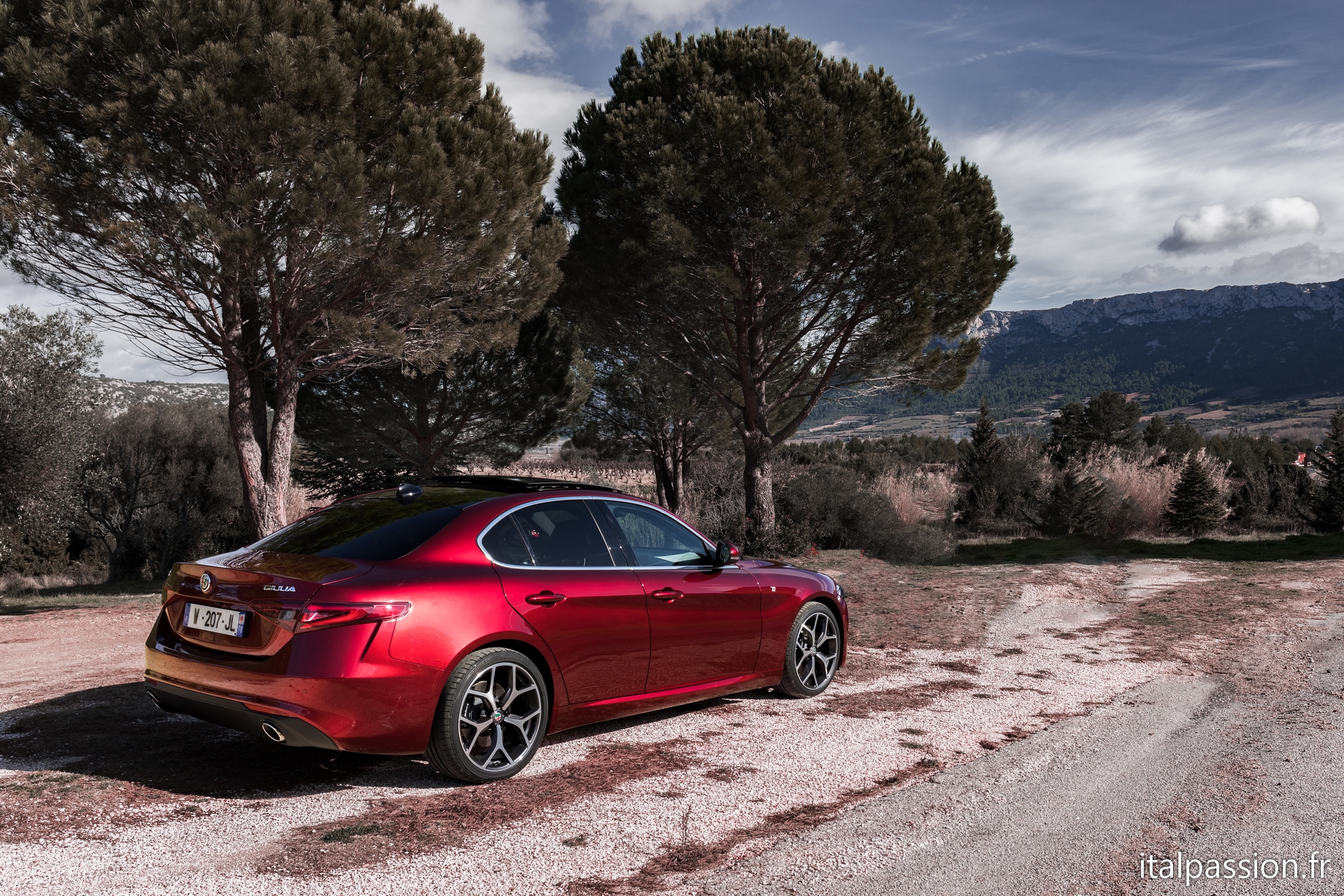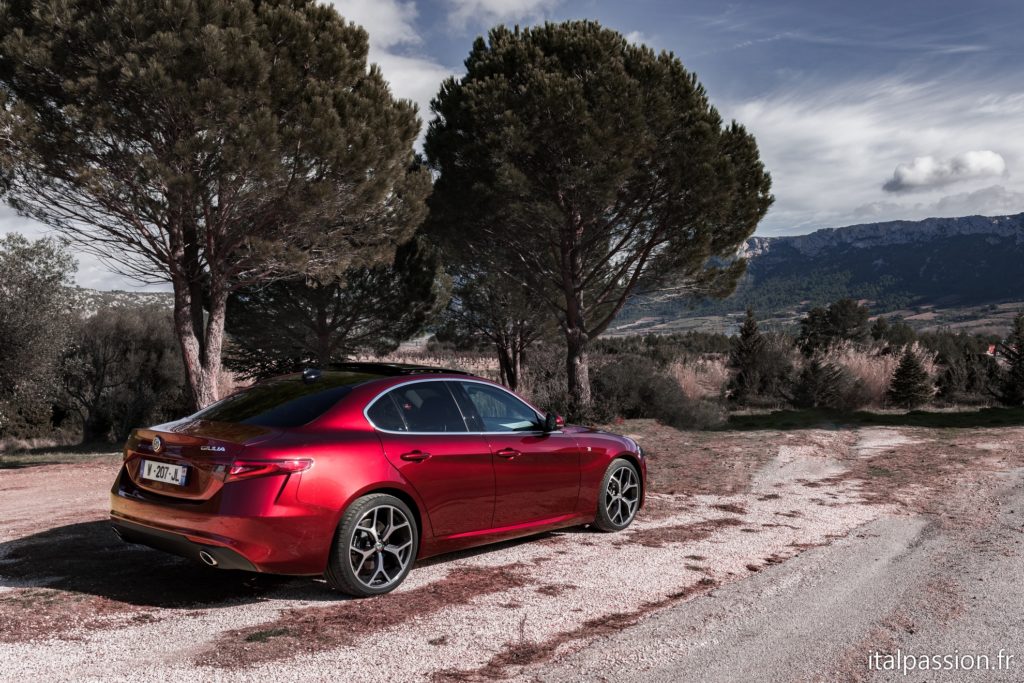 For the purposes of the test, the Giulia was a Ti trim with a red color Villa d'Este 6C (available mid-2020) beautiful.
The 2020 vintage does not bring any visible change to the exterior but a streamlining of the range and options so that your future Giulia be easier to configure.
Engines: there is something for everyone
The motorization I chose 3 years ago is the 200 hp gasoline, in rear-wheel drive. It is a very dynamics. The 0 to 100 is announced in 6,6 sec (I never measured) but it is to give the color. It is very pleasant to drive in "Dynamic", "Natural" or "All weather" mode, the latter makes the steering more flexible and uses more of the engine's torque at low rpm. Level consumption, I turn in the 8 L / 100 km and on the highway, I am at 7.2 L / 100 km. It is possible to drive 800 km (to the bottom of the reserve...) only on the highway. In mixed use, it's more like 650 / 700 km.
In the context of the test, the Giulia is a 190 hp diesel engine. These are two completely different behaviors. A gasoline has more length, a diesel has more torque. It depends on your affinity with diesel / gasoline, your driving style and the malus! All engines are offered with the 8 speed automatic gearbox which works really well. The sportiest engine, apart from the 510hp V6, is the 280hp petrol engine which is clearly aimed at those who like to push the button ;).
Personally, for my driving style, I prefer gasoline. However diesel is also very good, very torquey, not noisy. Make your own opinion by testing both engines in a dealership.
2020 developments, visible and invisible, welcome
The new features for 2020 are mainly visible on the inside of the car.
There are 3 notable ones:
the steering wheel: As there are new driving aids (see below), the steering wheel is equipped with sensors and is therefore a few millimeters thicker. It's pleasant to the touch and visually successful.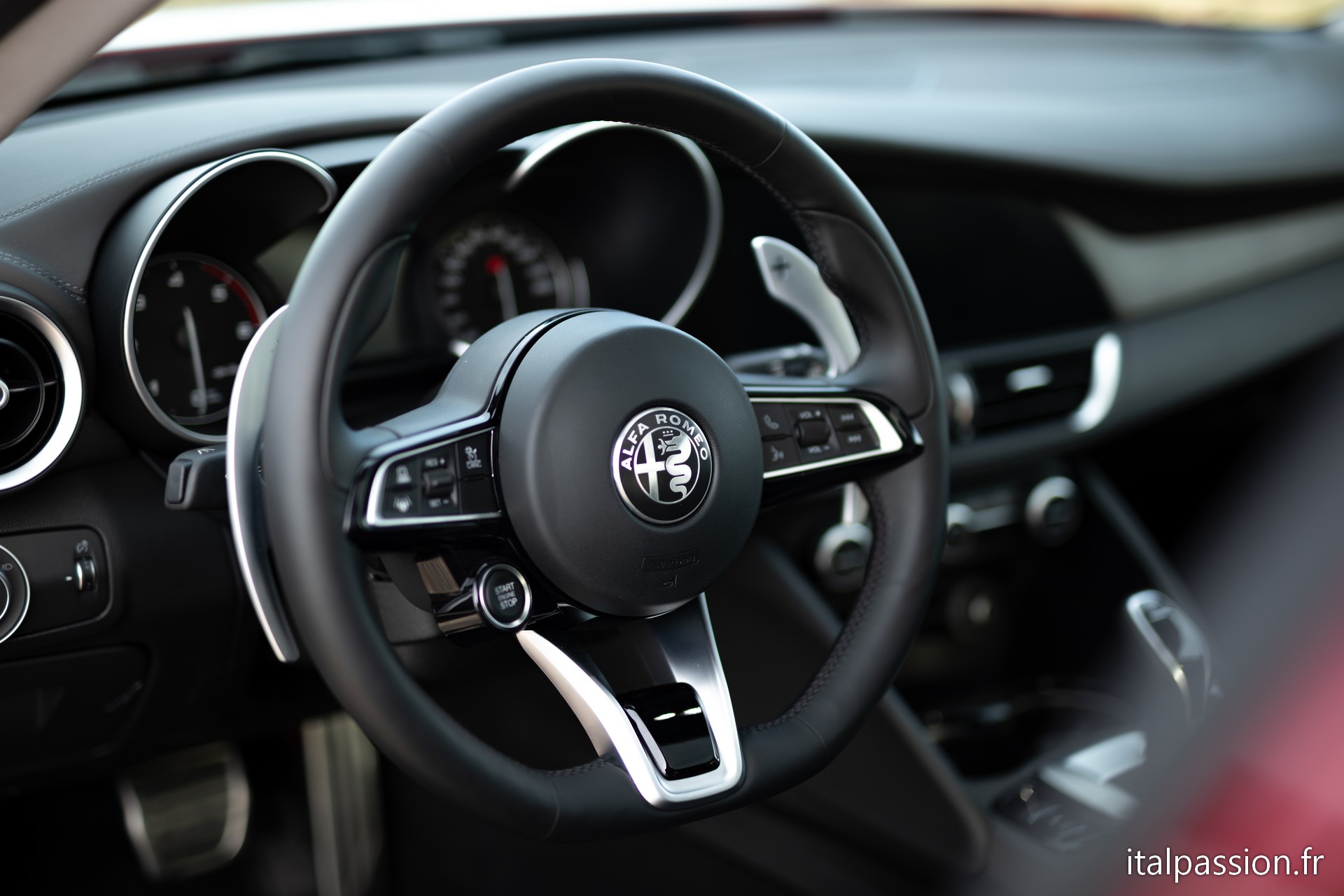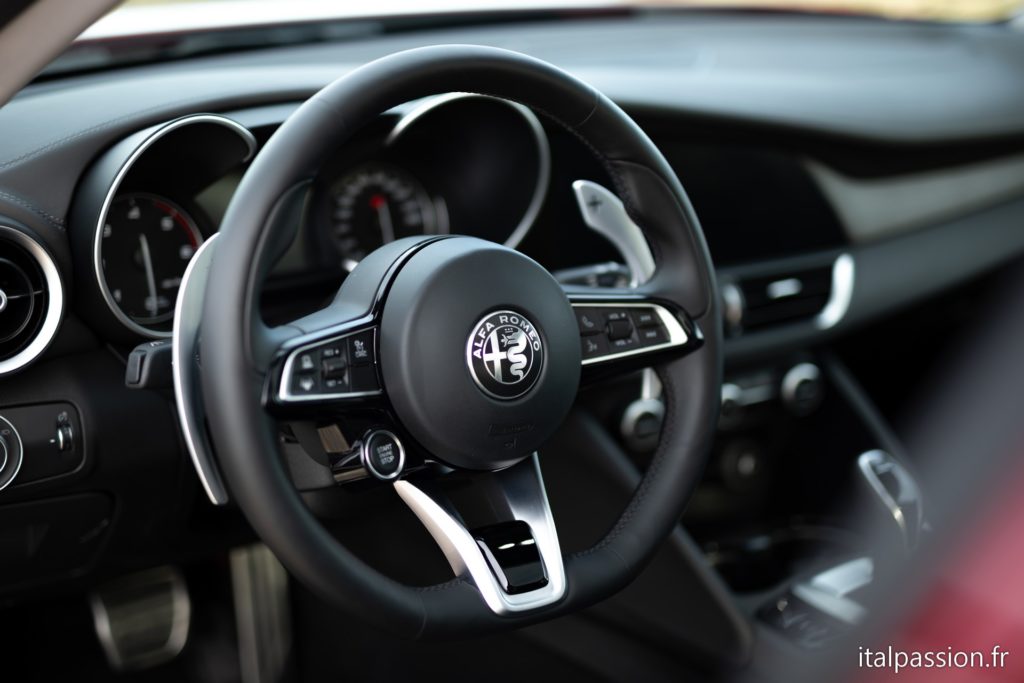 center console: this is for me the best 2020 evolution. On mine, the trap door of the center console was not always practical. Between keys, smartphone, wallet, some papers, the two cup holders are not enough. In the new version, many storage spaces are provided for the wallet, cups, key and even the smartphone which can be charged wirelessly by induction. Then the materials are better, especially the gearshift (yes, even if it's an auto gearbox) is much more qualitative with leather, it looks more solid and less plastic. It even reminds me of the one that appeared in the last Maserati Ghibli and Quattroporte...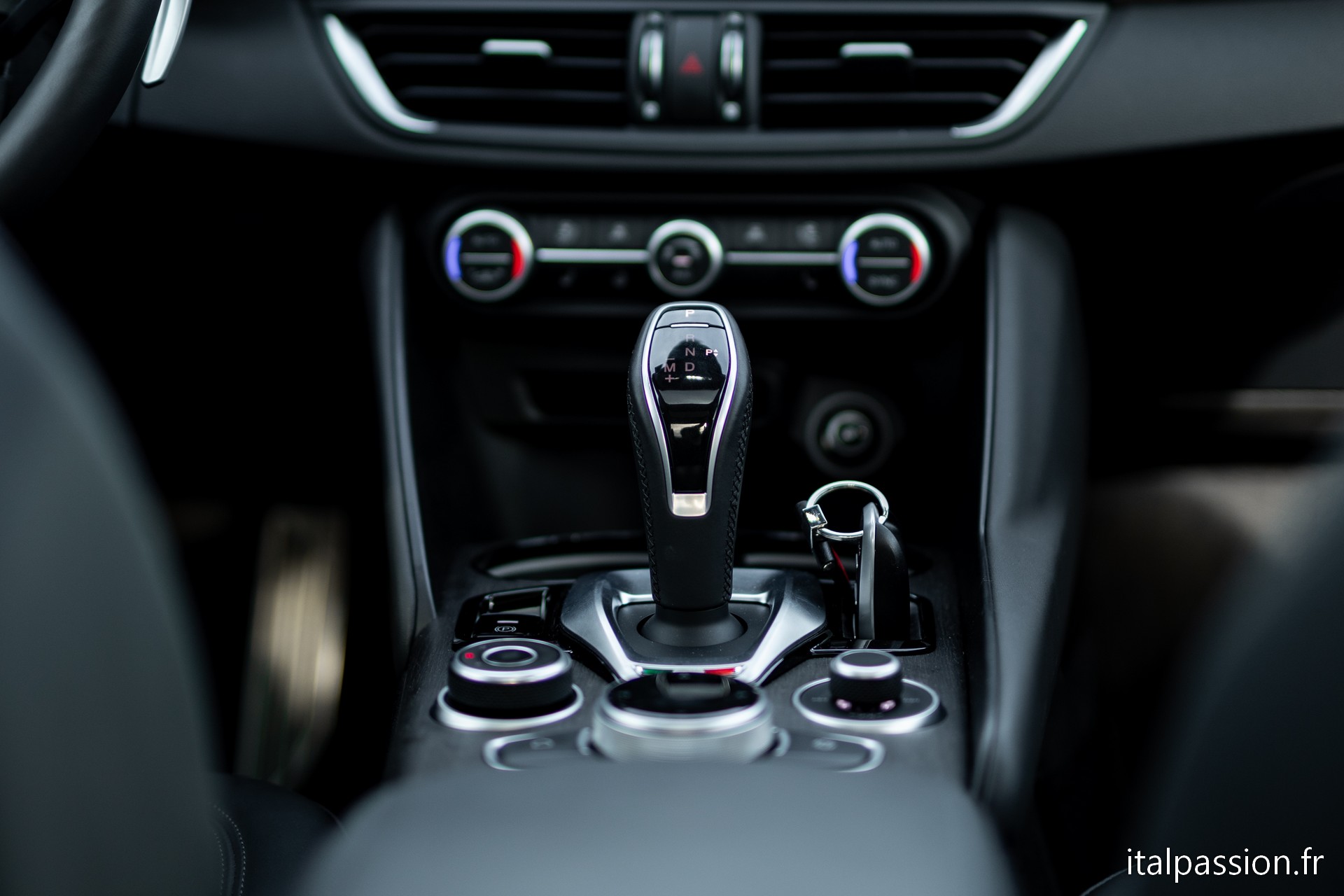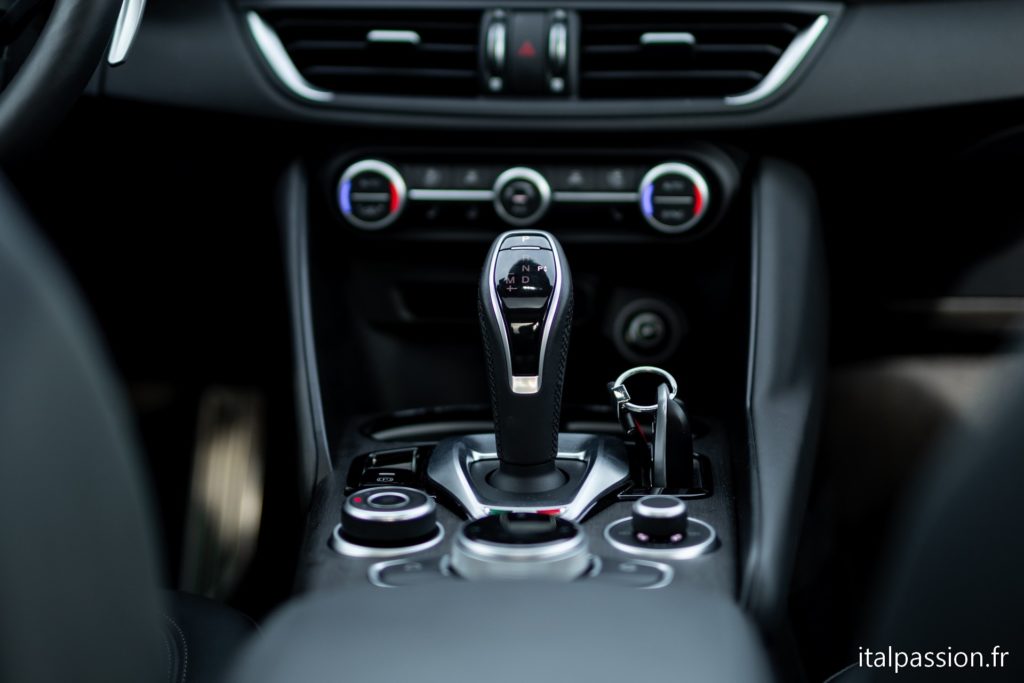 touch multimedia : As I said in my previous review, "the Giulia is not for geeks". Alfa Romeo knew this when it launched the 1st version of the Giulia, arguing that the development priority had not been given to multimedia. This is corrected with the 2020 version that brings an 8.8″ touchscreen, available from the entry level, and a new navigation experience with widgets. It works well, it's not fluid like what you can find in the latest Mercedes or Audi, nevertheless it's better than what I could try on the Renault, Peugeot, Toyota, Lexus multimedia system... The new multimedia system would deserve a little more fluidity at the level of the animations to be perfect. It remains very intuitive and offers quick access to the vast majority of needs: air conditioning, navigation, radio, AppleCar Play, Android Auto, etc.
Less visible:
new driving aids : the list is long, very long. The 2020 Giulia now offers all the driving aids that the premium competition offers. Driver fatigue sensor, traffic sign recognition, active blind spot and moving rear obstacle detection, semi-autonomous driving assistance in heavy traffic or highway conditions... I haven't tested any of them, sorry 😀
management sensitivity: Indeed, between my 2016 Giulia and the 2020 one, it is perhaps slightly firmer, more precise. But you really need to have driven both to know that because the steering of the previous version was already excellent. So to say that it's an evolution in the right direction, I couldn't say, it's very subtle.
Driving a Giulia, a daily pleasure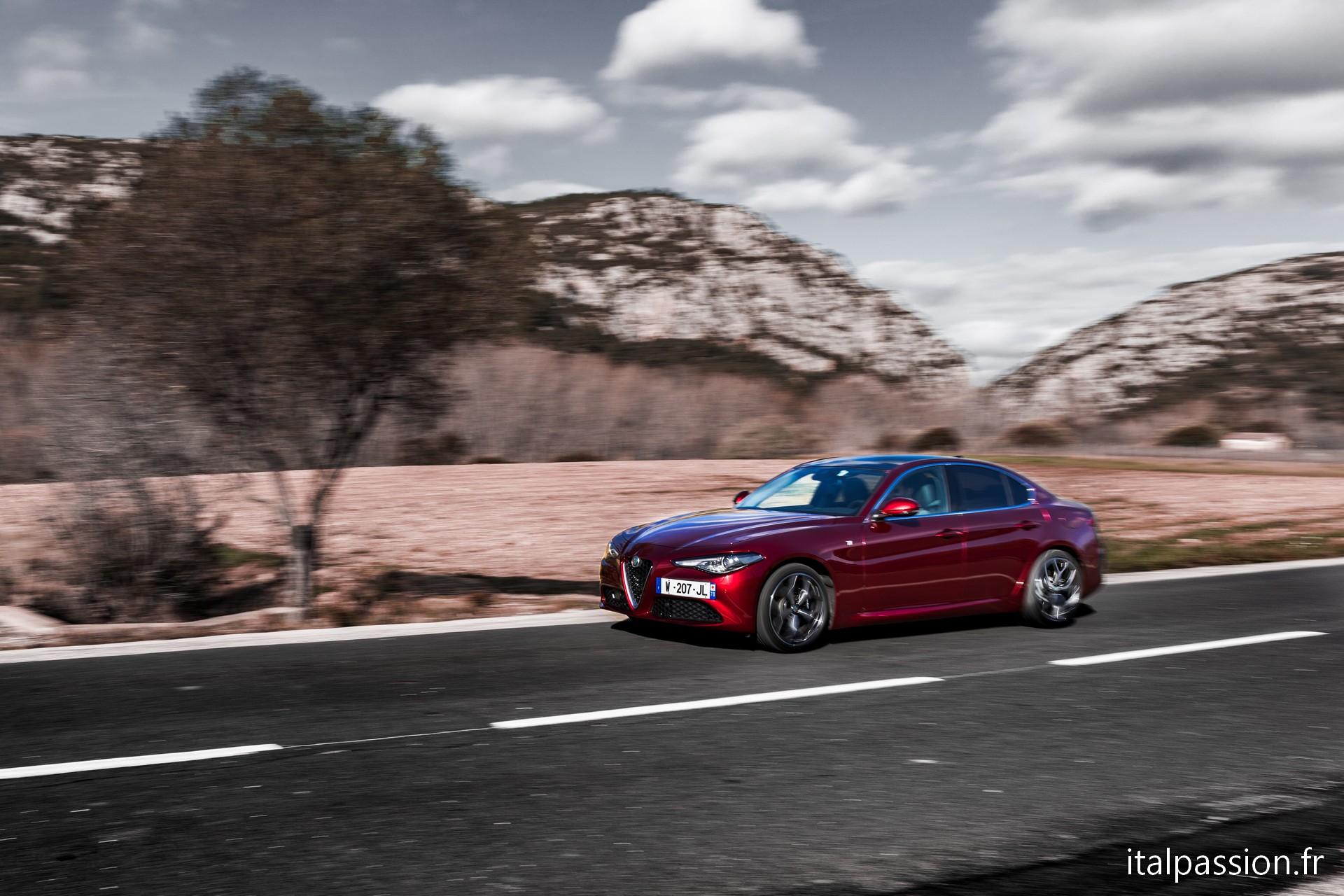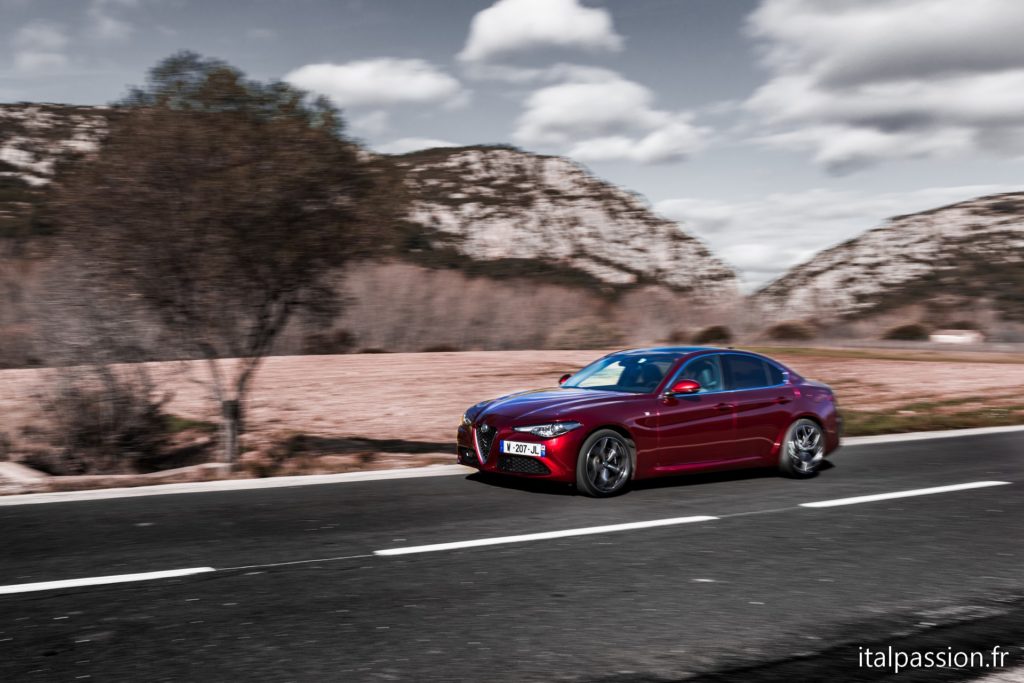 Whether in the city or on the highway, driving a Giulia is a real pleasure. In the city, the steering is precise and I often explain to my friends that it is as easy to drive as a Fiat 500 because it is so agile. On long distance, it is also very comfortableAs a proof, to do the test that you are reading, I made 1,600 km round trip with my Giulia without any backache, pain in the buttocks or other particular fatigue. Finally, I can confirm that the Giulia is a sedan that sticks to the road.
I really appreciate his reassuring behaviorIt has never failed in any situation and the emergency braking system, which must have been triggered a dozen times since I got it in 3 years, works very well.
It perfectly welcomes 4 passengers. Be careful, it's a sedan, it is not the trunk of a station wagon or SUV. Nevertheless, I was able to use my Giulia for my move, or to buy small trees in garden center, or finally to fill up with cases of wine, that passes! For your vacations, the roof bars and the tow bar are available as accessories...
I would add that when you have to make trips with friends or family as passengers, it is always the Giulia that is proposed (imposed) by default... surprising?
Only pleasure for more than 3 years and I will miss her the day I have to replace her.
2020 Giulia pricing compared to the competition
From 36 700 € TTC in France for the basic versionA well-equipped Giulia will arrive quickly depending on your choice of finish (Super, Sprint, TI or Veloce) and options around 45 000 € and over 50 000 €. if you really indulge yourself on the engines and options. So it's not the cheapest sedan. But in the end, it's worth it.
As a comparison with the competitionFor example, the recommended retail price of an Audi A4 is €33,600, a BMW 3 Series is €38,800, a Mercedes C-Class is €39,299, a Lexus IS 300h is €41,640, a Volvo S60 is €59,750... Add for each model the engine and options that go well, the prices are comparable.
The 2020 Alfa Romeo Giulia now ticks all your boxes
You have reached the end of this essay. What more can I say? The Giulia, which, when it was launched in 2016, was already a very good car with many qualities, with its 2020 edition corrects all the weaknesses mainly on driving assistance, multimedia and the perceived quality of materials. What is really missing? A hybrid engine to lower the ecological penalty? Maybe.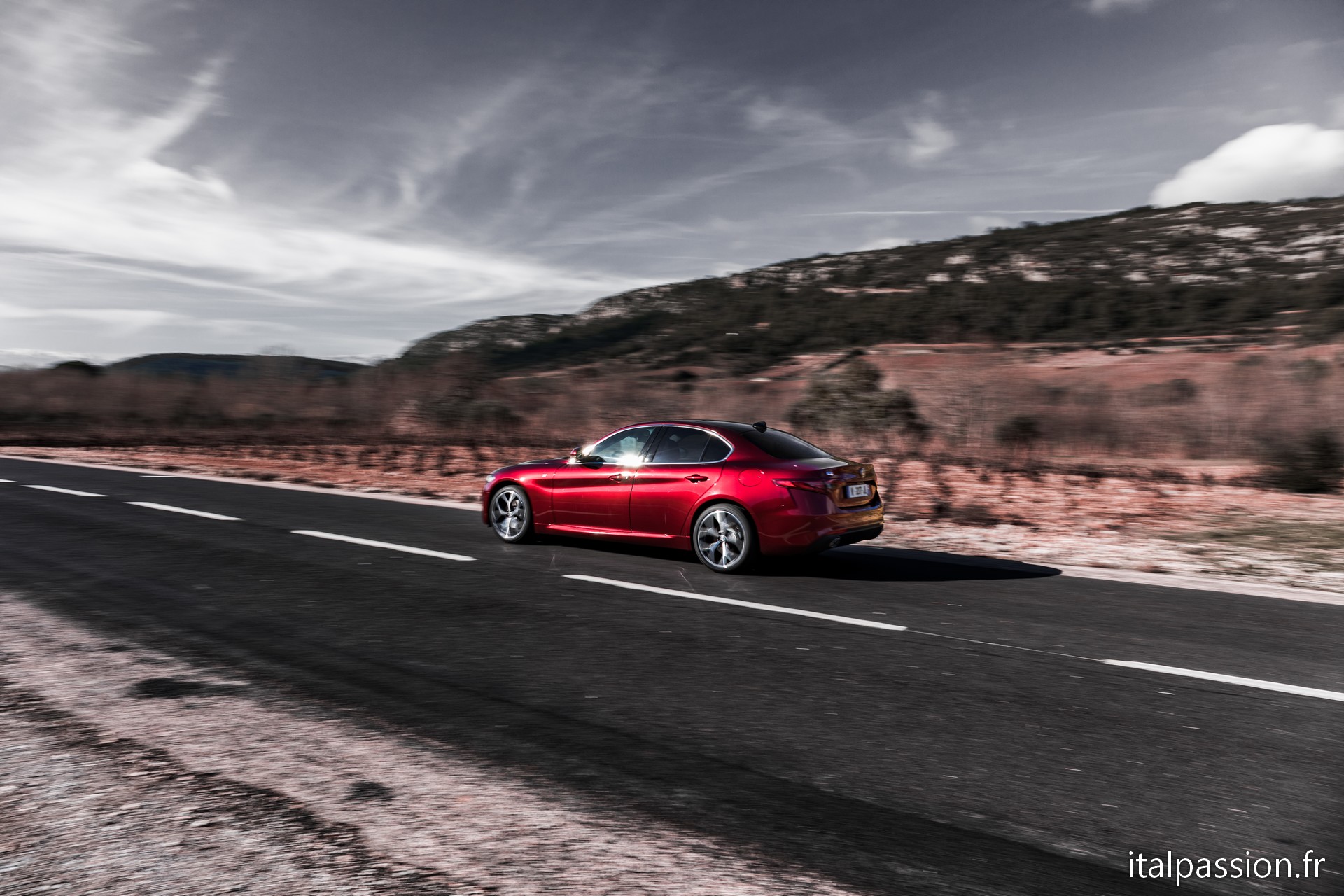 The sedans of the other brands you have in mind certainly have a lot of qualities too, but all I ask is that you give the beautiful Giulia a chance, come to the dealership, get behind the wheel, test drive it and feel the Alfa Romeo experience.
Indulge yourself. Think different 😉
PS : Thanks to Johan for the pictures. You can follow him on his Instagram account.