Good news for motor racing. After Ferrari which will arrive in 2023 with a model unveiled in June this year, it is Lamborghini which announces to join the Hypercar category with a presence in the WEC endurance world championship in 2024 including the 24 hours of Le Mans.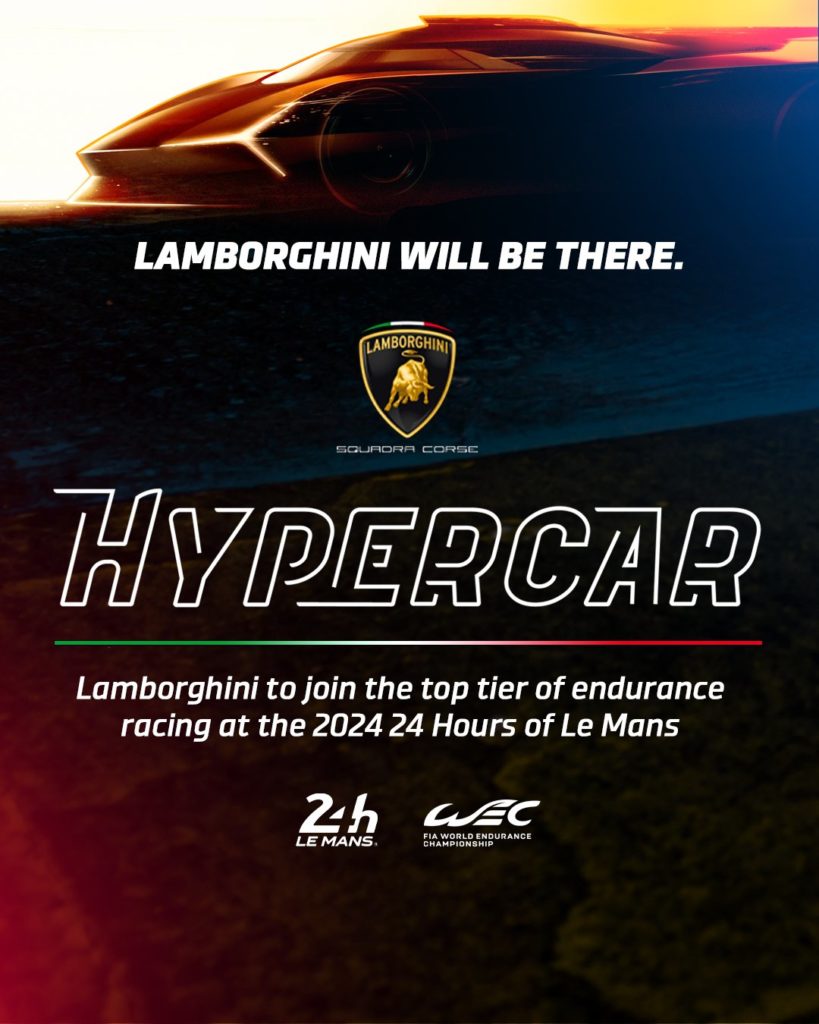 The Lamborghini brand will be alongside, in LMDh, Acura, Cadillac, BMW, Porsche, Alpine, and in Hypercar of Peugeot, Ferrari, Toyota, Glickenhaus and Vanwall.
The president of Lamborghini, Stephan Winkelmann, comments:
"We were interested in participating in a world championship where there were high-level competitors, and there are many. What matters is to have top-level competitors, not just names. Lamborghini was not born from or for motorsport, when Ferruccio Lamborghini founded his company he had the dream of creating sports cars outside of racing. We are interested in entering a championship that has a solid foundation, we do not like to race for a year and then say goodbye."
Frédéric Lequien, WEC CEO, commented:
"We are honored that Lamborghini will join the FIA WEC Hypercar class starting in 2024. Lamborghini is an iconic brand, but it has never competed in the premier class of endurance racing before. It will join the FIA WEC at a very exciting time in its history. For the 2024 season, we will have an exceptional line-up of brands competing in our premier class. The competition will be fierce, but we have no doubt that Lamborghini will be at the heart of the battle. Lamborghini has had great success in other endurance racing classes, so we look forward to seeing them battle for wins at our events."
The last appearance of a Lamborghini at Le Mans was in 2010 with the Murcielago of the Japanese team J-Loc.